List Of the Best Wedding Cake Topper Ideas For Bride And Groom For Your Next Wedding
Wedding cake toppers are the ideal accessory to personalize a wedding and make it memorable. There are several ways you can use a wedding cake topper. If you are falling short of ideas, then worry no more as we present creative and unique ideas that help you create the best wedding cake topper for your special occasion.
1. Simple cake topper with 'Mr. and Mrs.' Letters: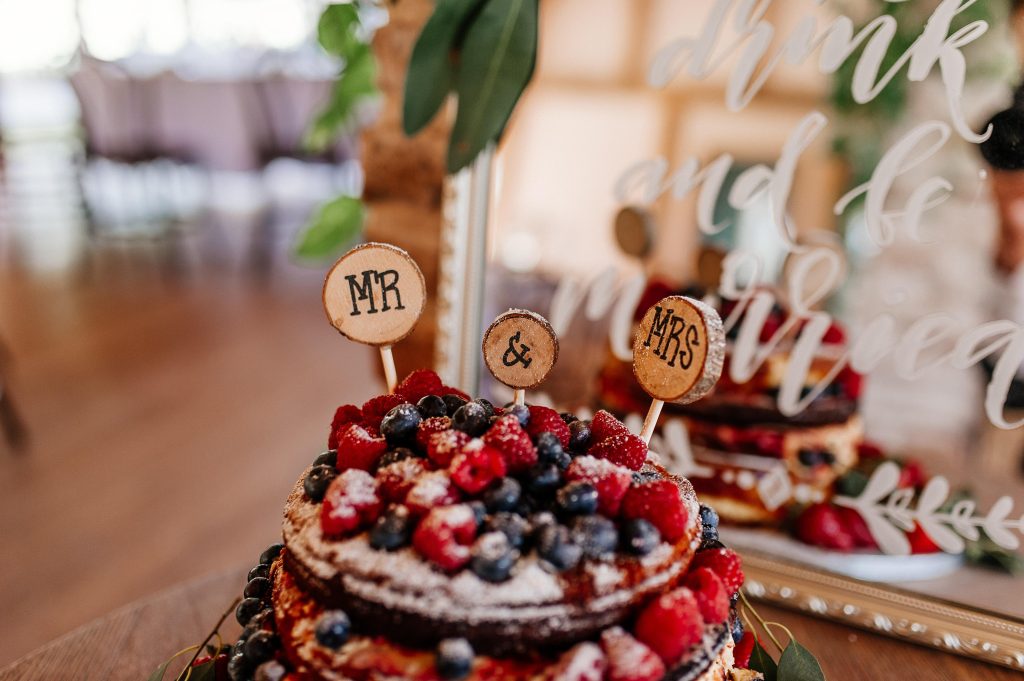 If you want to go simple and yet make a statement then these wooden cake toppers are for you. These three tiny cake toppers have one word written on them each: Mr. &  Mrs.
This cake topper gives your cake the identity of a 'wedding cake' and gives a subtle and cute message to the guests about the specialness of the occasion.
Go for this option when you want to be minimal yet classy.
2. Classy wedding couple figurine cake topper: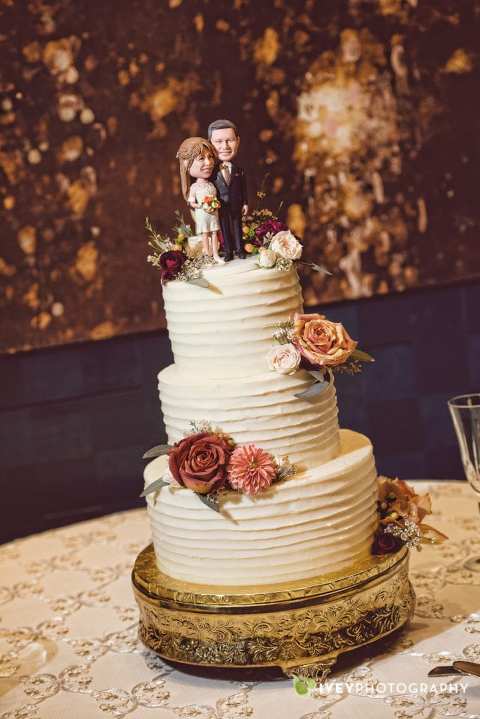 Give your wedding cake a personal touch by adoring it with miniature dolls of the wedding couple. Thanks to professional artists, you can get these cute dolls with a striking real-life resemblance.
To make it more 'occasion-oriented' you can make these dolls wear the wedding costume and complete the attire with a bouquet in the hands of the bride. You can further enhance this cuteness on the top of the cake by adding edible floral cake toppers around it.
3. Faceless wedding couple figurine as cake toppers: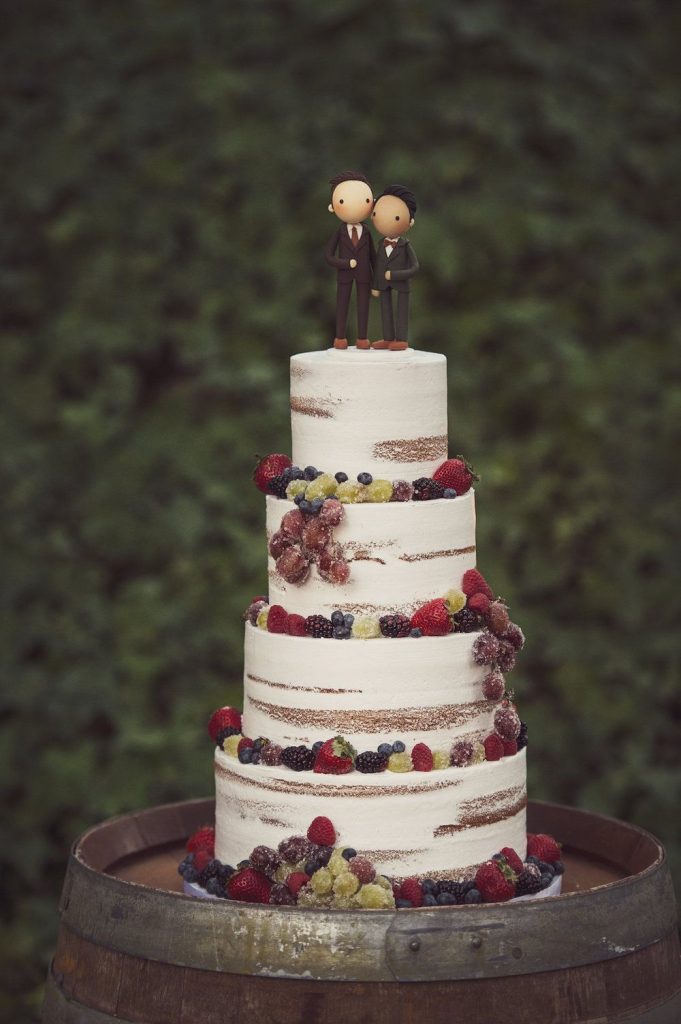 Generally, a customized and creative wedding cake topper means having miniature dolls of the wedding couple. But you can go even further than that and give these dolls a creative look. One way of doing it is to have the wedding couple wearing formal suits and keeping their faces blank except for their eyes.
The idea may sound a little offbeat but if you bring it to life through a professional and experienced artist, then stay assured that these cake toppers will hog all the limelight during the event.
4. Cake toppers with initials of wedding couple's name: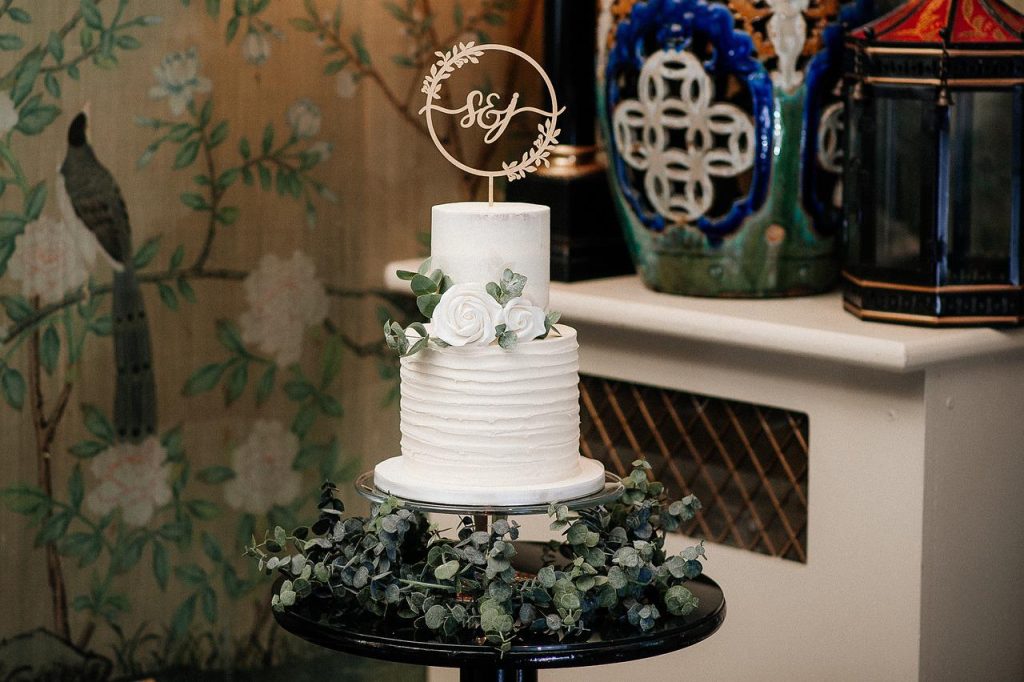 Cake toppers don't always have to be visually prominent and loud. You can have an impact with minimal design elements too. If you feel the same and want a classic wedding cake topper that signifies the event along with an elegantly simple appearance then opt for a cardboard-based cake topper with the wedding couple's name's initials on it.
These initials, designed in a calligraphic style and fixed in a circular frame are an ideal wedding cake topper idea if you want a minimalistic elegant look. This cake topper goes well with a cake with minimal design elements and carries a clutter-free neat simple look.
5. Smiling dolls resembling wedding couple as cake toppers: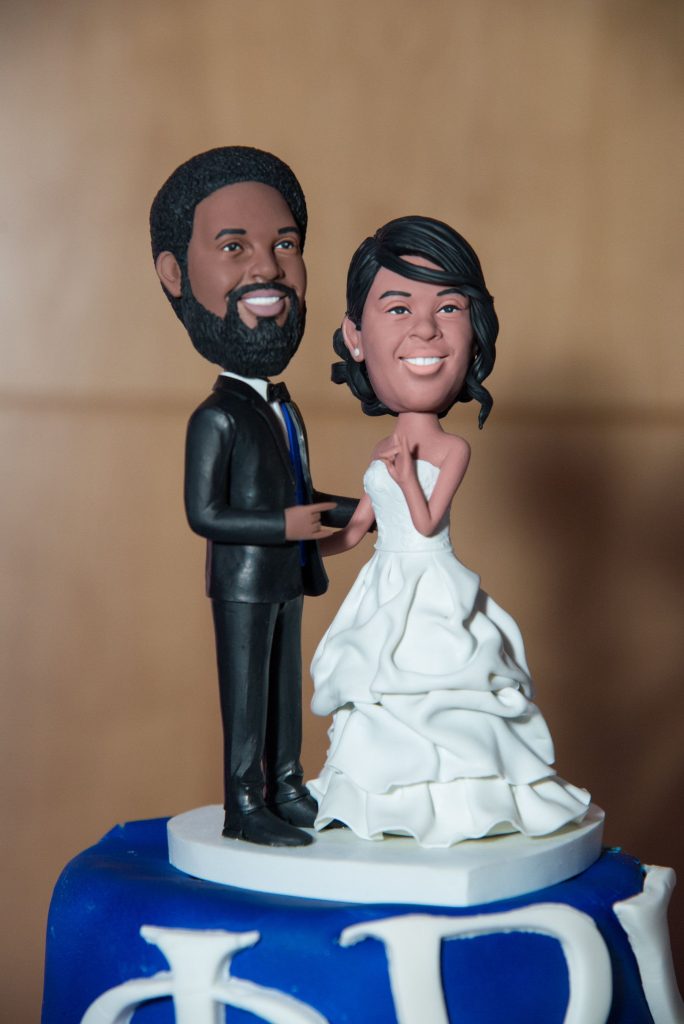 The best way to personalize your wedding cake is to top it with cake toppers that resemble the wedding couple. Having a miniature version of the wedding couple on the cake creates a massive impact and ensures the event is stamped in your guests' memories.
The impact of this cake topper depends on its execution. A well-crafted wedding cake topper will carry the wedding couple's facial expressions along with their wedding attire. These minute details like hairstyle, design and the colors of clothes are sure to entice your guests.
6. Wedding couple with the pet as cake topper: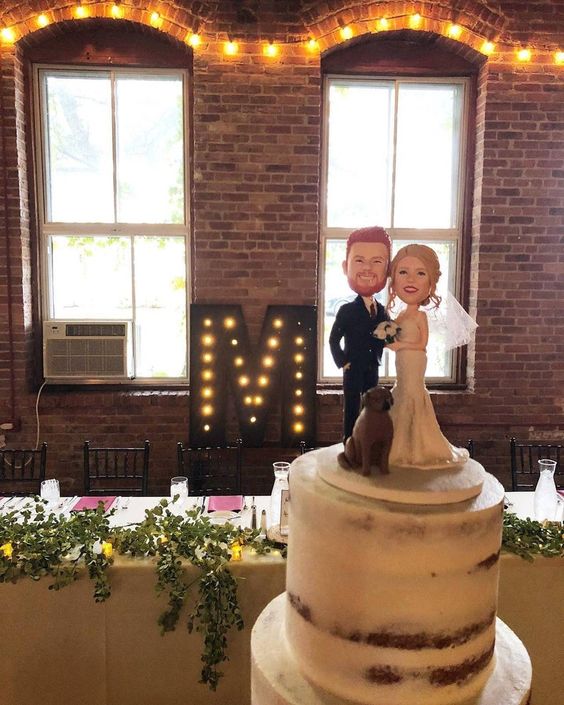 Take the idea of having the wedding couple on the cake one step further by adding a tiny version of your beloved pet on the top of the cake. This makes the family complete and adds a ton of cuteness to the top of the cake.
This idea of having miniature versions of the wedding couple and your pet dog on the cake as cake toppers is highly creative and adds a personal touch too.
The only concern here is to ensure all three figurines fit well on the cake. Failing to align the sizes properly would hamper the aesthetic value of your cake. Hence, ensure your cake is wide enough to fix all three figurines. And keep a check on the weight of your cake toppers. Otherwise, it may tilt or fall.
7. Wedding couple's miniature dolls and edible flowers: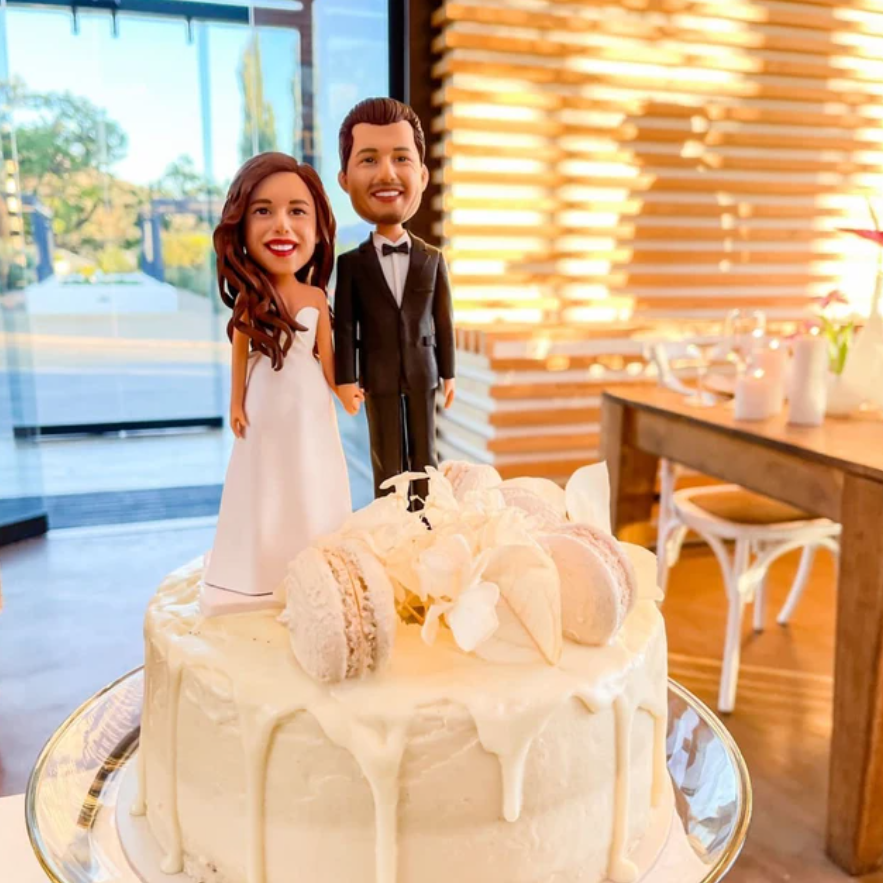 A simple personalized wedding cake topper idea is to have figurines of the wedding couple and edible flowers on the cake. This simple-sounding idea works wonderfully when you pay attention to the detailing and hire an experienced artist to execute the idea.
Make the dolls wear wedding attire, get their hairstyle right and have detailed facial expressions. And voila! you have a beautiful look wedding cake that captures everyone's attention. To enhance it further, make the wedding couple hold hands and you have a perfect wedding cake topper for your special occasion.
The edible floral decorations can suit the color of the cake and can be arranged in such a manner that looks simple. This ensures they go with the simplicity of the figurines and you have a classy and memorable wedding cake topper.
8. Multi-tier cake with minimal design: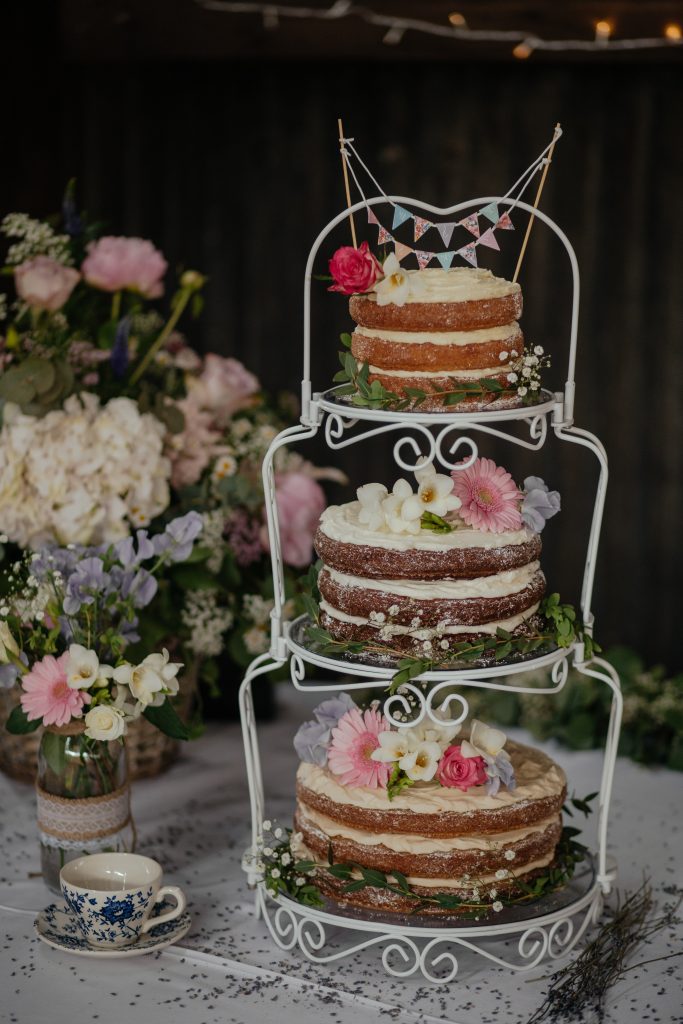 If you wish to celebrate your wedding subtly and don't want any flamboyant wedding cakes then here is a creative and simple wedding cake topper idea that is flop-proof.
Go for a multi-layer cake. Arrange the tiers of the cake on a cake stand. And now sprinkle some edible flowers on the top of every tier. The key here is to have decorative edible flowers that have a striking resemblance to real flowers. The bakers these days have colors and techniques so advanced that they can make these edible flowers look more natural than the real ones.
To make the cake look more artistic, you can go for a couple of rows of tiny flags or pennants on the top tier. No figurines, no texts. Only tiny flags on the top tier and edible flowers on the other layers. As said earlier, this cake topper arrangement gives an artistic look to your cake and is so simple that it can't go wrong.
9. Snowfall themed wedding cake topper: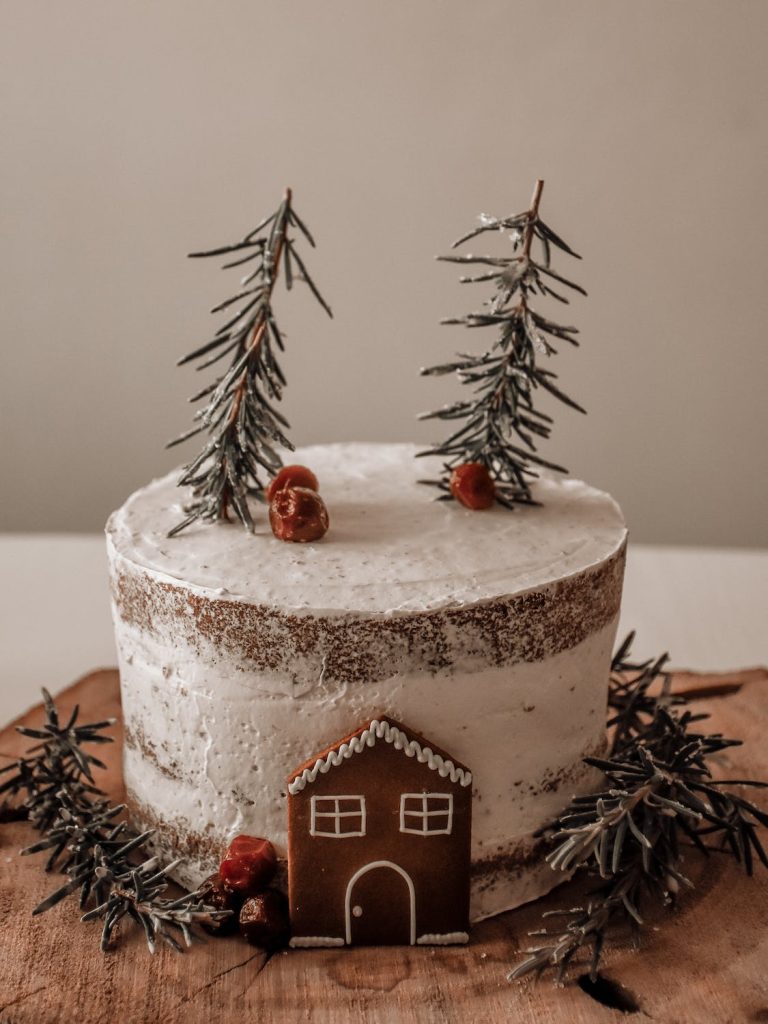 Continuing with wedding cake topper ideas with no figurines and texts, here is one that tickles the creativity of the onlookers and also gives your cake a nice theme.
The thought of a warm cozy home during snowfall is exciting. You can tap this excitement by making this thought the theme of your cake. All you have to do is ask your baker to bake a white single-tier cake and have a 2-D design of a brown house at its base. Make sure the house has a gable roof and windows as these elements convert a 'house' into a 'home.'
Add cake toppers that resemble pine tree branches to create the feel of snowfall. A couple of these branches with some snow on them are sure to elevate the cake to the theme of 'snowfall and a cozy warm home.'
This cake topper idea is extremely unique and easy to execute. So what are you waiting for? Book one today.
10. Wedding cake topper for dog lovers: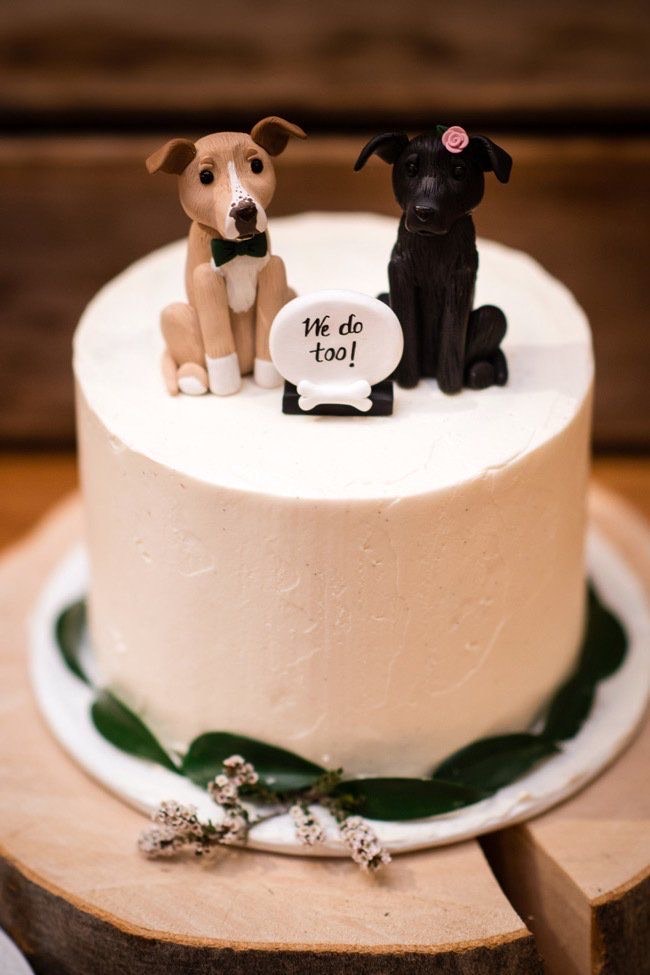 The best way to express your love towards your pets is to add them to your wedding cake theme. Create tiny figurines of your beloved pets and add cute text. Place these elements on the top of your cake. This will surely melt several hearts during your special event. And it will also help you in expressing your love for your pets.
11. Creative costume cake topper idea:
You want to go with the idea of having miniature dolls of the wedding couple on the cake. But you don't want it to be mainstream and wish to have some creative design. If you find yourself trapped in this dilemma, we have the perfect solution for you.
To make your wedding cake topper stand out from the rest, use creative accessories and design elements. Does the groom love basketball? Create his avatar in basketball player's attire and you can give a similar funky look to the groom too. You can even put a cute puppy in her hands to extend the creativity.
A pro tip: Give these dolls interesting poses so that their appearance becomes even more different from the standard cake topper dolls.
12. Wire cake topper with half moon backdrop: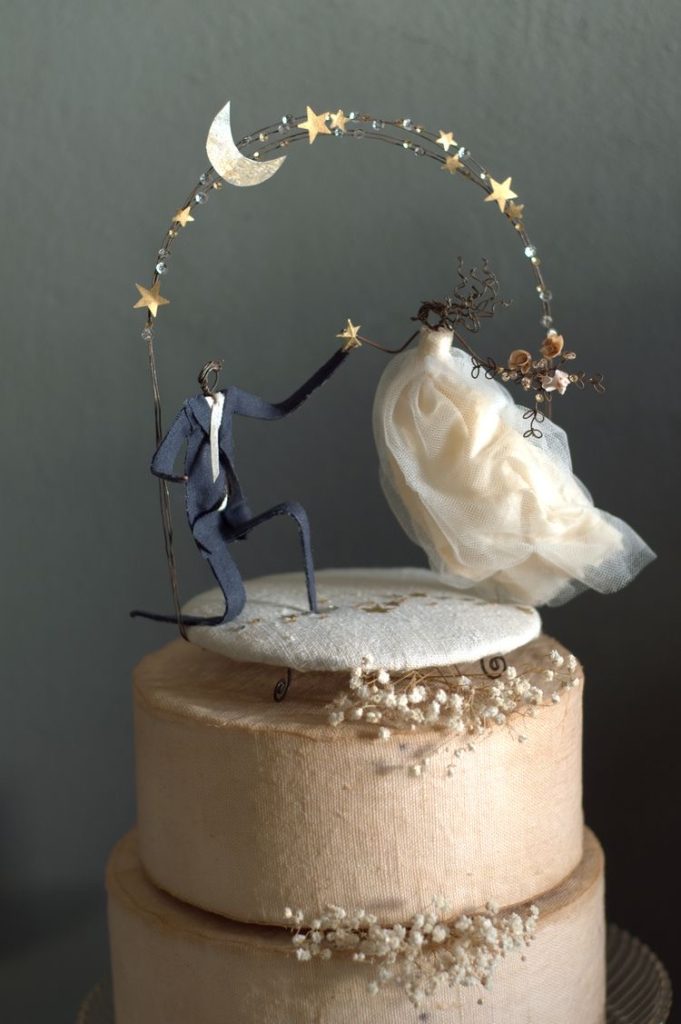 If you want to have an 'out of the box' wedding cake topper idea then you are at the right place. Because the idea we discuss here is truly creative and at the same time captures the essence of a 'wedding celebration.'
Instead of using actual dolls, use elements to set the tone and leverage people's thinking prowess to create a memorable cake topper. Using tiny wires, create a skeleton of a bride and groom. Make them wear wedding costumes. Here too, don't go for the complete design, just use elements like fabric and cut it in shapes that trigger the onlookers' thoughts.
A groom bent on his knees and handing over a star to the bride who is bent slightly to receive it amidst a silent night glittering with the moon and the stars. To create this setting, you can use shapes of the moon and stars made from paper and glue them together with a ring of wires.
As a complete cake topper, this picture of a bride and groom amidst the stars and moon is sure to make your wedding event a memorable and special event.
And what's more the cake topper will stay with you forever as a sweet souvenir of the special day.
13. The 'Mini Us' wedding cake toppers: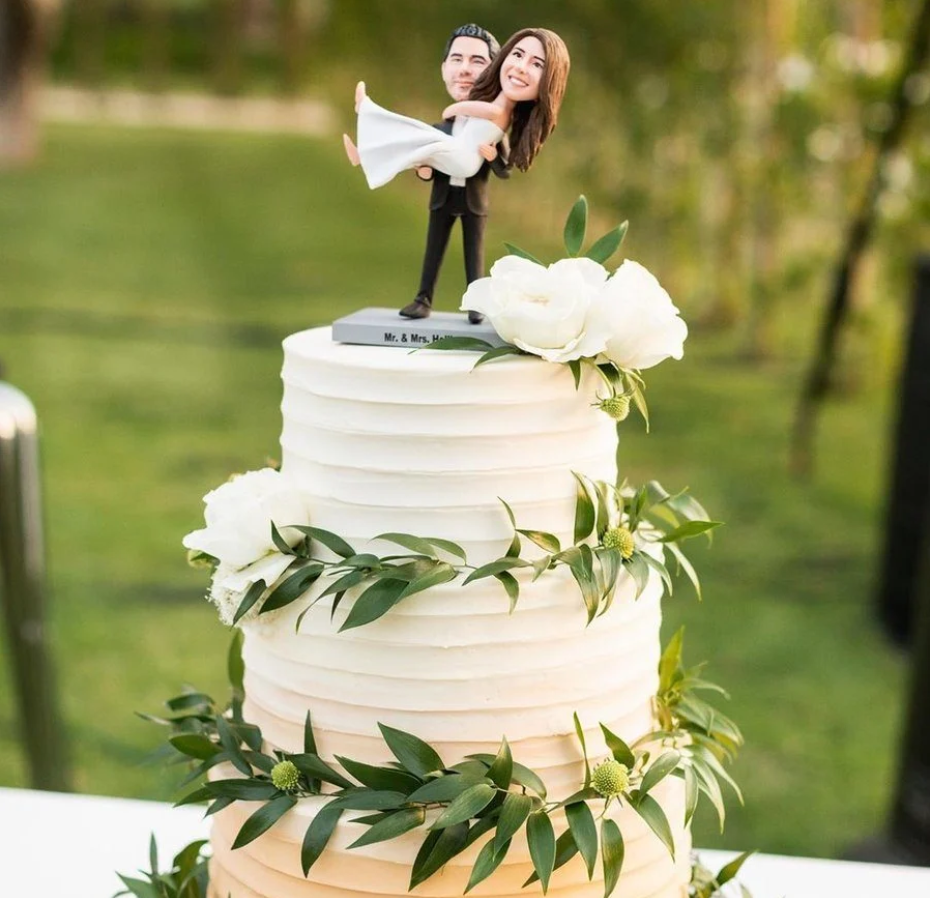 With the growing popularity of wedding cake toppers, the figurines of a bride and groom have become common on the top of the wedding cake. You can break this 'standard' mold and still have the wedding couple on the wedding cake by changing the pose of these figurines.
How about the groom lifting the bride? The idea is of course interesting. And with the help of an expert artist, you can bring it to life. Since the groom will be lifting the bride, ensure that the figurine of the groom has a solid base. It should be sturdy enough to balance the weight.
You can further customize this wedding cake topper by inserting the wedding couple's name on the cake topper's platform.
14. Celestial cake with half-moon cake topper: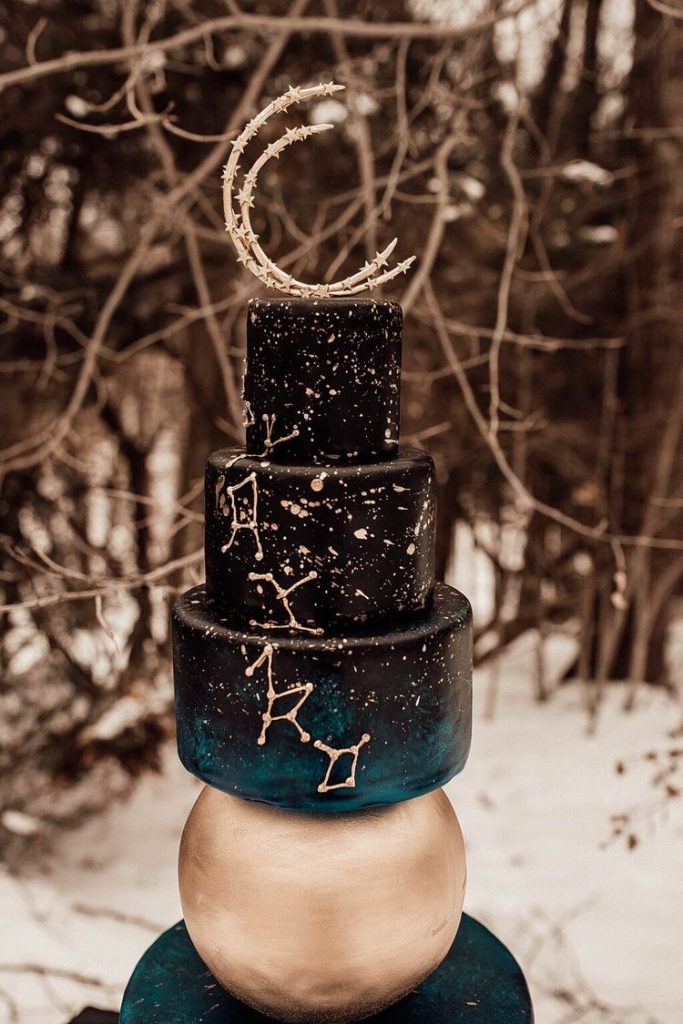 If you want a unique cake design and want to look beyond the standard white-colored cakes, then go for a dark-color cake that reflects a specific theme. Having a flamboyant cake topper on such a unique cake can be a counter-effective idea as it may hamper the cake's beauty.
So it's better to go for a simple and minimalistic cake topper design. You can even use a couple of edible half-moons adorned with stars as cake toppers to go a celestial-themed cake. You can have some designs of constellations around it to sync it with the theme.
15. Multi-tier cake with figurines of wedding couple: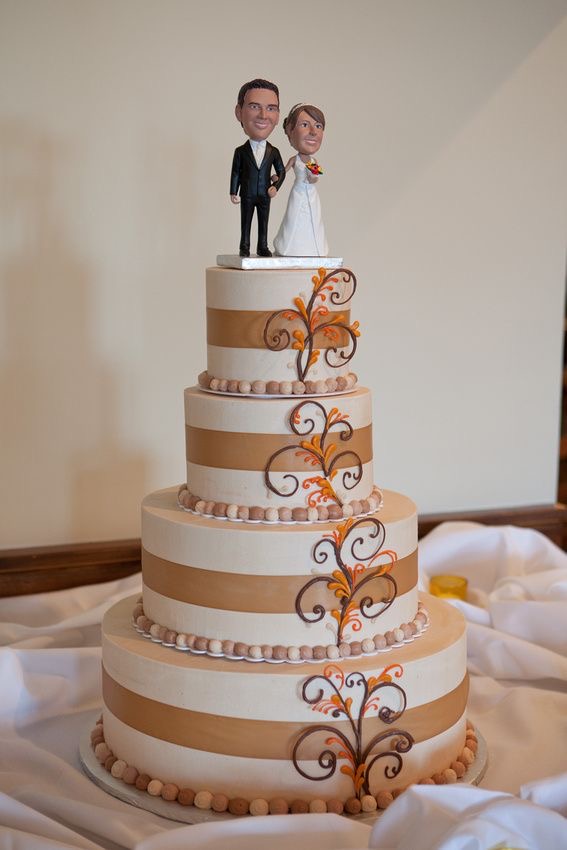 If you have a multiple-tier cake then it's always advisable to have a cake topper as the design of these multi-layered cakes diverts the attention of the onlookers to the top of the cake. So if you keep the top of the cake empty, the cake's design appears to be unfinished.
So what should you add as a cake topper on top of a multi-tiered cake? The best option is to have tiny real-looking figurines of the wedding couple. This will give the wedding cake an identity and will make the event memorable for the guests and the couple.
16. 'Mr. and Mrs.' text with edible flowers: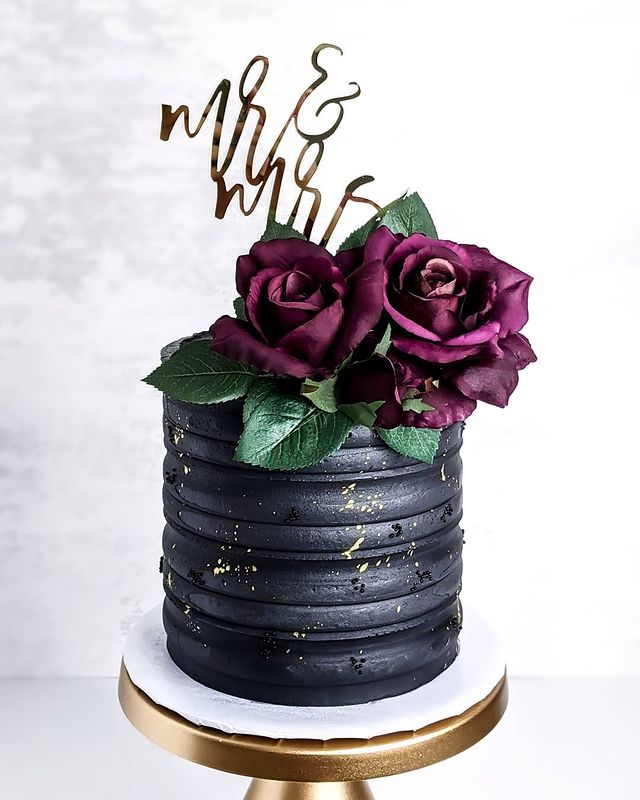 If you prefer elegance over flamboyance and like clutter-free decorations instead of crowded ones, then this wedding cake topper idea is for you. You can use it for cakes of single or multiple tiers. There are two parts to this cake topper idea. The first part is a cake topper of text and the second cake topper is an edible floral decoration.
Have a cardboard or plastic cake topper of calligraphically written 'Mr.' and 'Mrs.' letters and install it on top of your cake. These letters give the cake the identity of a 'wedding cake.'
The beauty of the cake though will come from the second cake topper. These edible flowers would bring freshness to the event and will make your cake look prettier.
Here ensure that you get the flowers done by a reliable artist as the entire impact of this wedding cake topper idea depends on how realistic the flowers and leaves appear.
17. Wedding couple along with their pet as cake topper: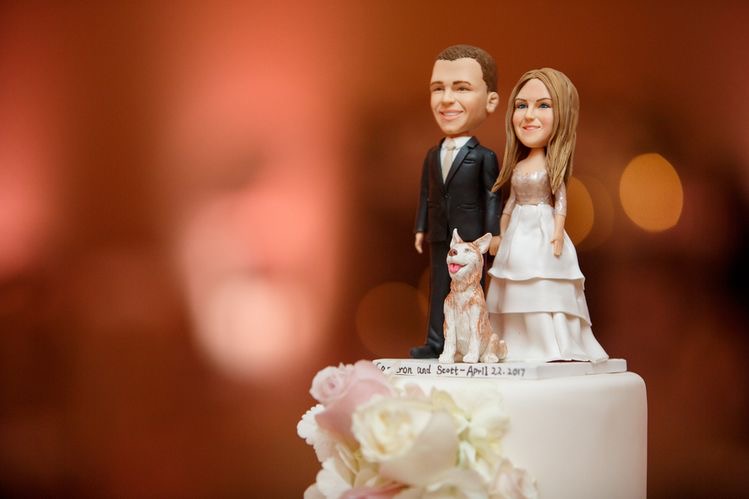 A classic yet imposing wedding cake topper idea is to have tiny figurines of the wedding couple and your pet as the cake topper. Having miniature dolls of the wedding couple is a standard cake topper design. But the addition of the pet gives this idea a personal touch and makes it unique.
This design is easier to execute and will be ready in lesser time. So you end up saving some brain scratching as well as your precious time.
18: The Batman-themed wedding cake topper: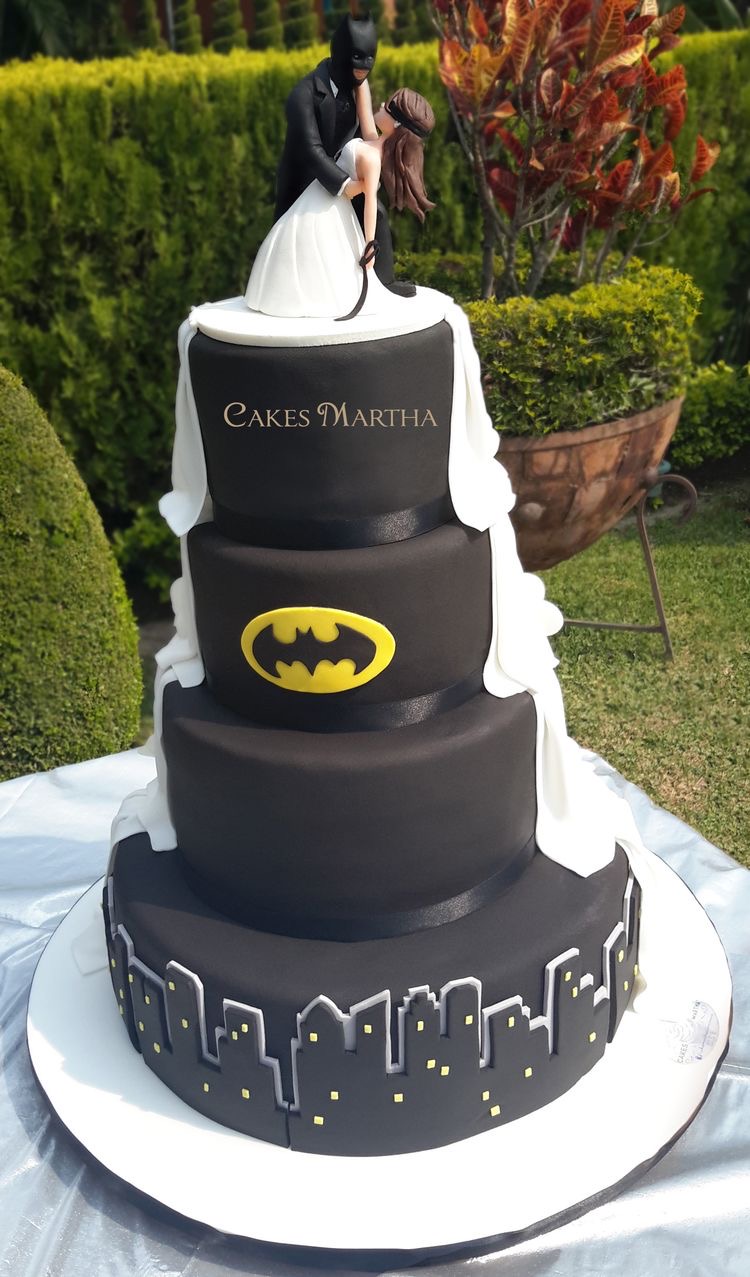 Some superheroes enjoy enormous popularity. Batman is one such superhero. Batman fans proudly boast about their love for this superhero and won't mind theming their life around this love. So how can we miss the important occasion of the wedding?
If you want to infuse your love for Batman in your wedding celebrations then the best way to do it is to theme your wedding cake around it.
A multi-tier cake with a Batman logo on it will be ideal. And figuratively the cherry on the top will be the groom dressed up as Batman holding the bride whose wedding gown is decorating the cake.
19. The 'Always' cake topper for Potter Heads: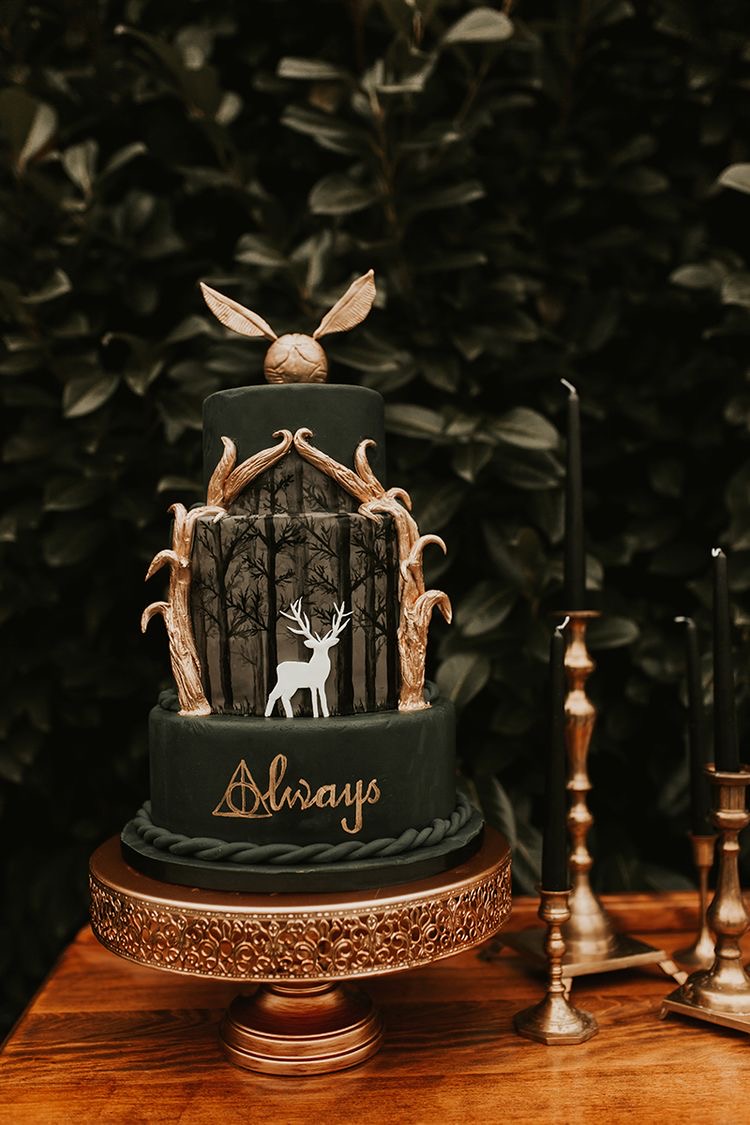 For Harry Potter fans, the word 'Always' is a complete world in itself. This one word reflects true love, sacrifice, and sadness. Hence, for Potterheads, the word 'Always' holds a special place.
So when a Potterhead is having his or her wedding, we can't think beyond this special word. It has to be on the cake. And how can we miss the silver dove, the other element that describes Professor Snape's undying love for Lily? To comple this cake's look, use a cake topper of the golden snitch.
20. 'To the Moon and Back' cake topper: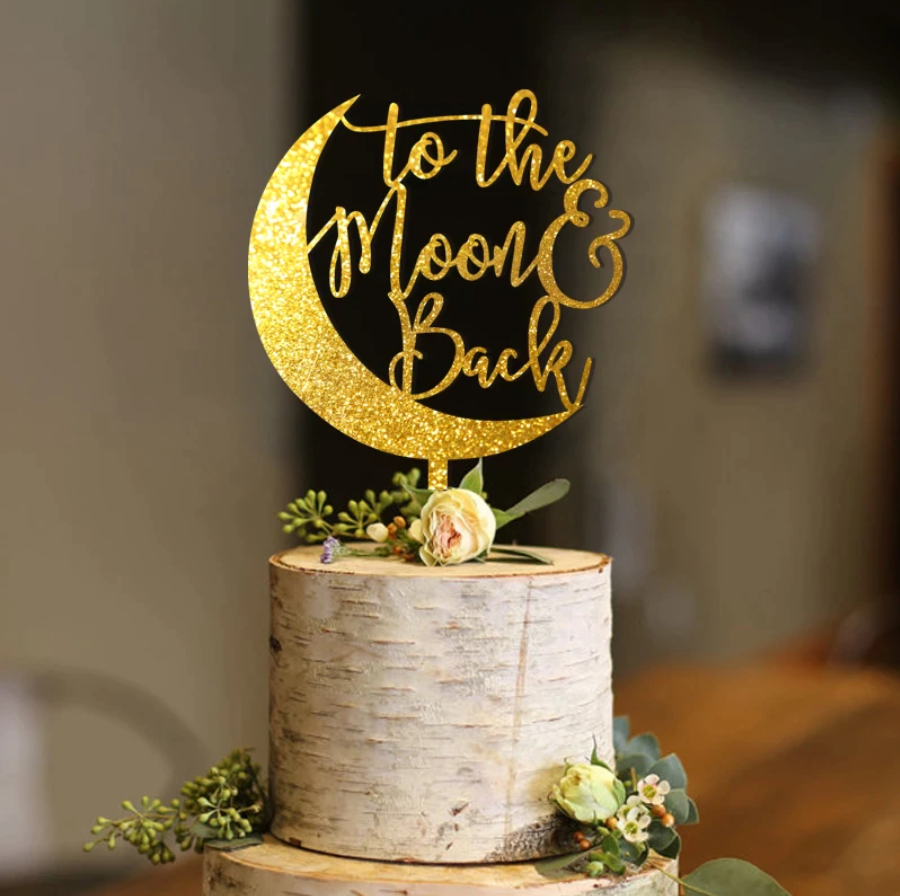 If you are looking to have a romantic text as a cake topper then there's nothing better than the statement,' To the Moon & Back.' This classic expression has helped couples convey their love for each other. Such is its charm that it never gets old. So you can implant this beautiful text on the top of your wedding cake with a picture of half moon to create the feel and make your cake truly personalized.
You can get a customized cake topper with this text. A laser-cut wood is ideal for such cake toppers as it makes it solid and easy to install.
21. Donut cake and unique cake topper: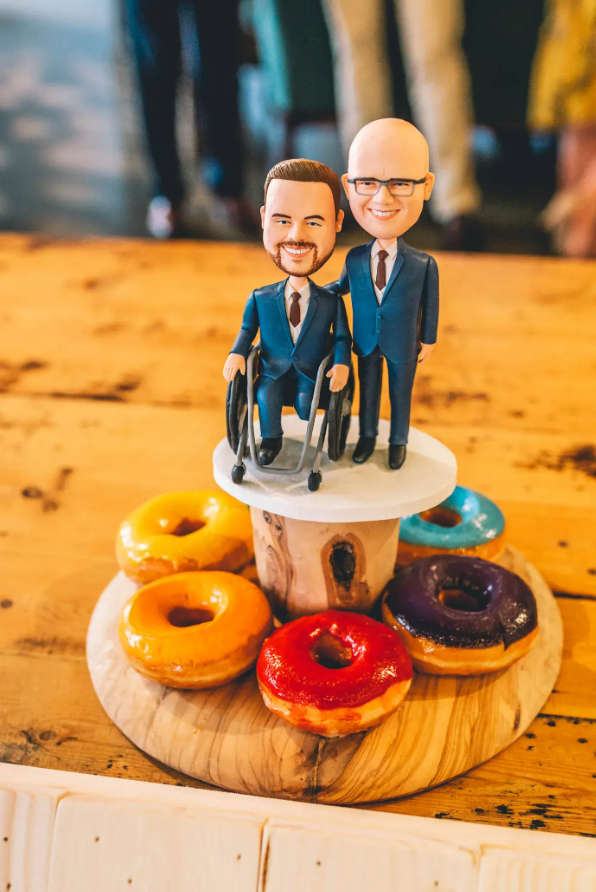 Break the mold and go for a donut cake instead of the traditional cake to give your guests a pleasant surprise. What is a donut cake? Nothing fancy, all you need is to stack a few donuts together, and voila! You have a donut cake ready. To make it visually richer, use donuts of different assorted flavors and colors.
To complete the look of this unique donut cake, you can fix cake toppers at the top. A cute miniature doll of the wedding couple would be ideal. Since you have chosen a unique cake, you can make the cake topper unique too by giving the dolls a customized look. It could even be something like one partner sitting in a wheelchair. This unique cake topper and non-traditional donut cake will make your special event more memorable.
22. The classic wedding couple plus pets cake topper with offbeat accessories: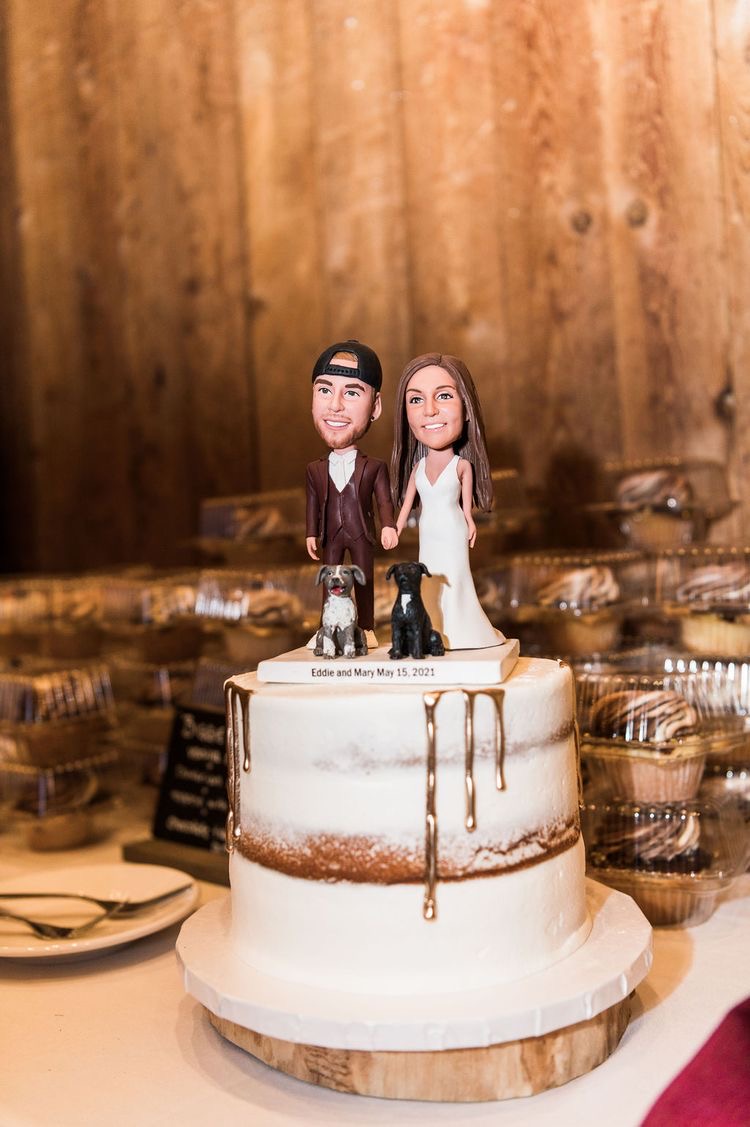 A classic wedding cake topper idea is to have bobbleheads of the wedding couple with their pets. You can insert the couple's name on the cake topper platform to make it more personal while some customizations with the couple's attire can give it a unique look.
23. Minimalist cake with a standard cake topper of miniature dolls: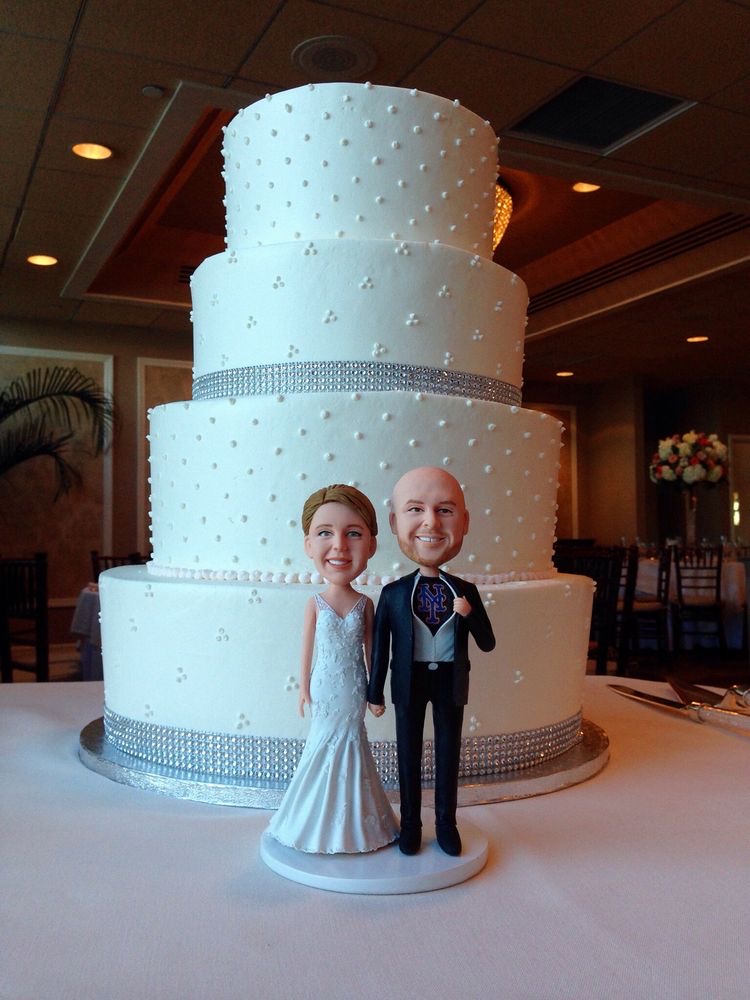 If you have a standard multi-tier wedding cake draped with white cream, then it is a good idea to have a classic and elegant cake topper to compliment it. Instead of inserting the cake topper on the top tier, you can keep the cake topper beside the cake to give it a creative look.
The miniature dolls of the couple holding hands and in their wedding attire are the ideal cake toppers for a beautiful white multi-tiered cake.
24. Metallic drip cake with classic cake topper: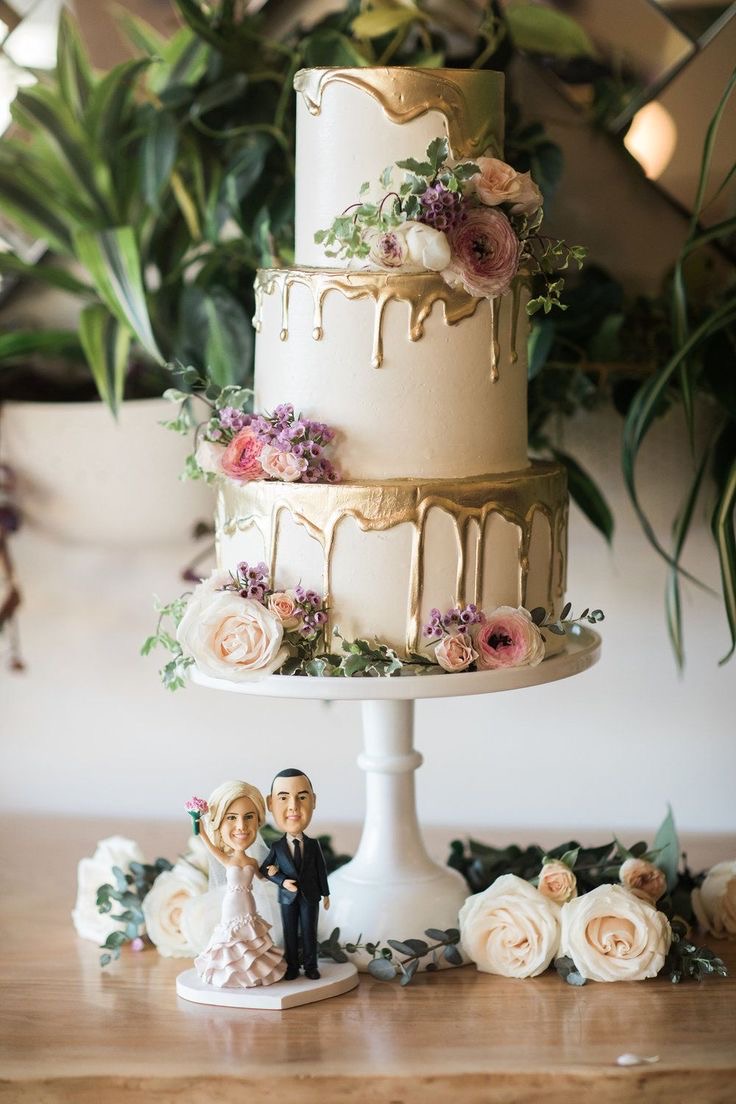 If you don't like fancy things and prefer something with aesthetic appeal and a royal touch, then choose the 'metallic drip' cake. As the name suggests, this cake uses gold color cream to drip from the top of a multi-tier cake.
When laden with edible floral decorations, this cake is a treat to the eyes. You can place tiny dolls of the wedding couple next to this royal and elegant cake to customize it for your special day.
Ensure these tiny figurines match the wedding couple's facial expressions and have a casual pose. This will make your wedding cake more memorable.
25. Seashell cake topper for 'beach theme':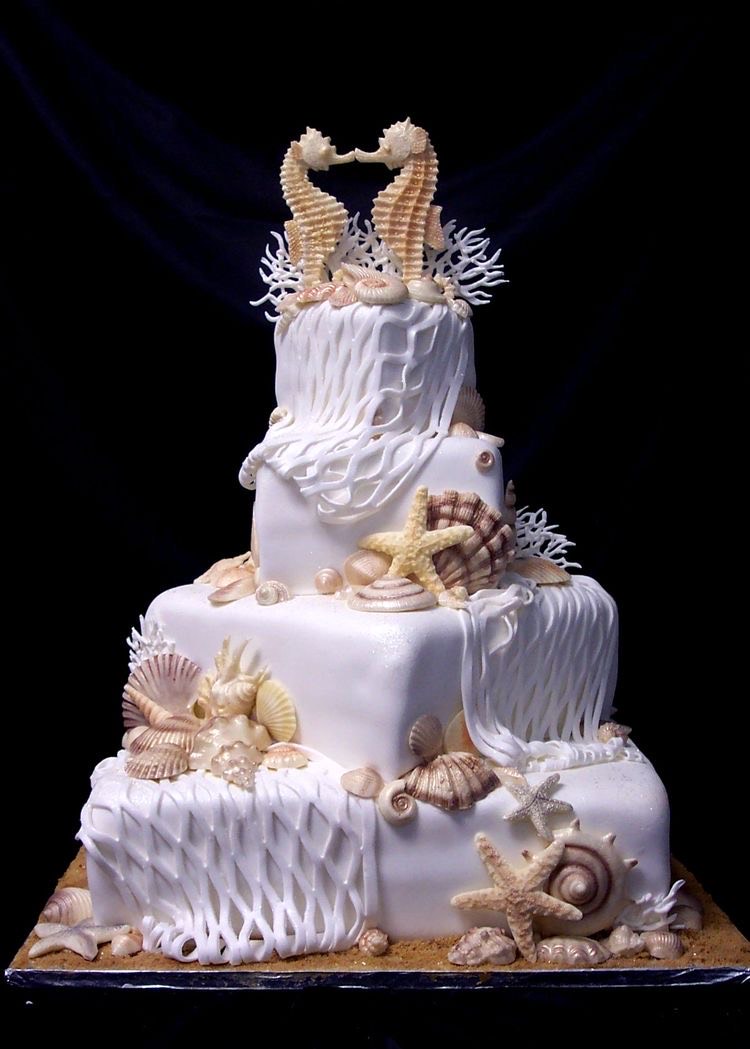 If you have a wedding by the beach or you want to have the theme of ocean or sea for your special occasion, then opt for the seashell wedding cake topper idea. Here, the wedding cake is decorated with edible sea shells.
This concept of seashells works well with cakes of various sizes and shapes. You can choose the types of seashells and marine creatures of your preference. The most famous ones are starfishes, sea horses and pearls and snails.
26. A Boho Arch and rosemary decoration cake:

For a simple and minimal wedding cake design, the option of dried oranges and rosemary branches as decoration is very effective. It looks neat, and subtle and yet retains its unique identity. For such a minimalistic wedding cake design, the ideal cake topper is to have a Boho Arch cake topper with the name of the wedding couple on it.
Made in Acrylic, the names on this cake topper are printed with UV ink. So they won't fade away easily and you have a sturdy and durable cake topper.
27. "Wooden Dolls" Cake Topper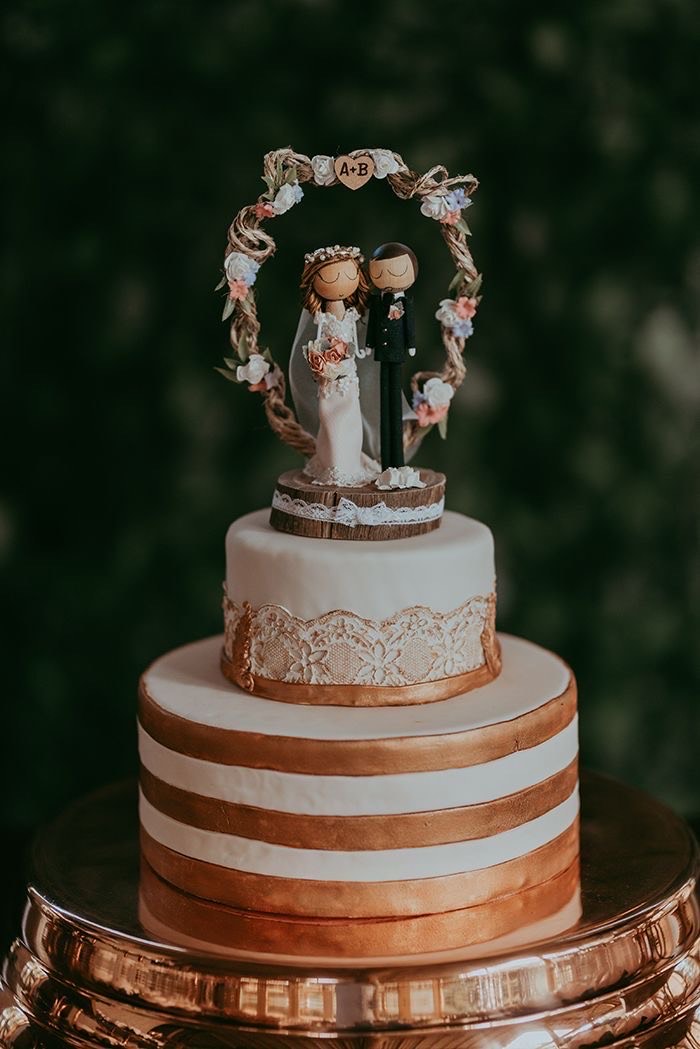 If classy and grace is your calling then bring the best of gold in your wedding cake. Go for a white color cake and decorate it with a touch of gold. This combination is the quintessential classic for any occasion. And to further elevate the importance of the occasion, you can have a wedding topper that resembles the wedding couple.
A professional artist will help you create cute tiny figurines of the wedding couple also known as 'WOODEN DOLLS'. You can customize these figurines by tweaking their costumes and the accessories they hold. You can give a royal look to the cake topper by adding a floral arch behind it.
28. Disney Wedding cake: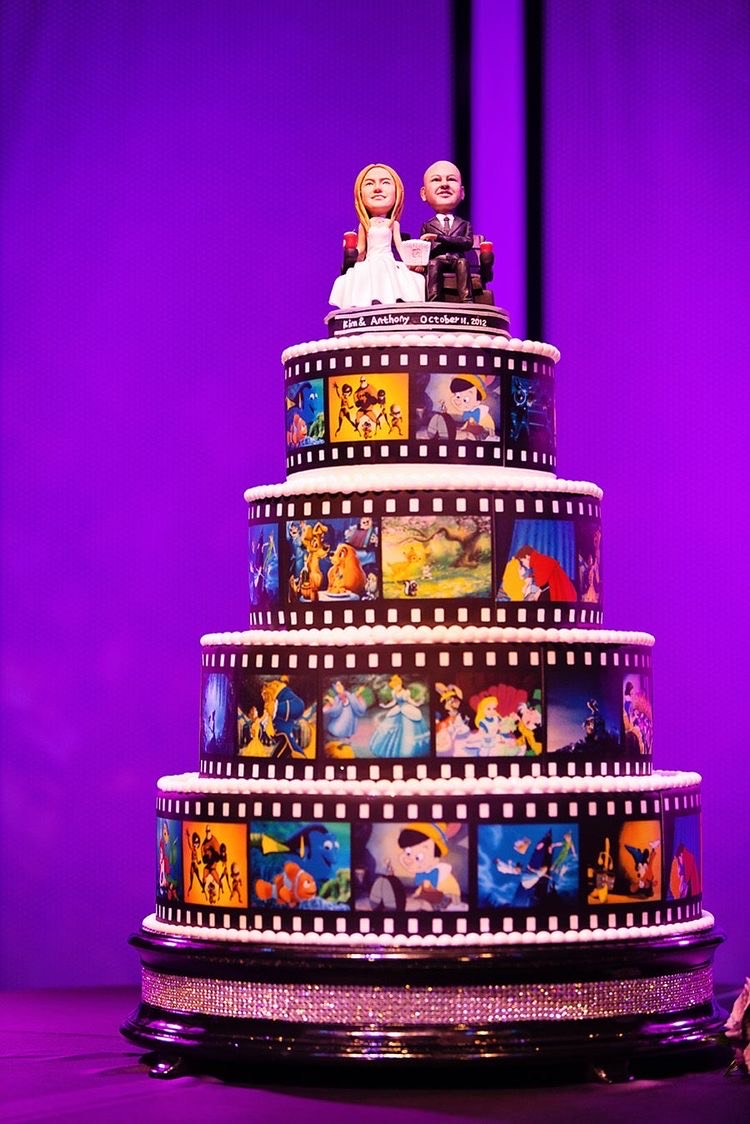 For Disney movie fans, this is your chance to proclaim your love for this fantasy world. Make 'Disney' the theme of your wedding cake. Choose a multi-tier cake and use edible movie reel strips to cover every tier. You can select the movies and your favorite scenes to make the cake more personalized. As a cake topper, use figurines of the wedding couple sitting on the couch and enjoying a movie together.
29. Simple strawberry cake topper idea: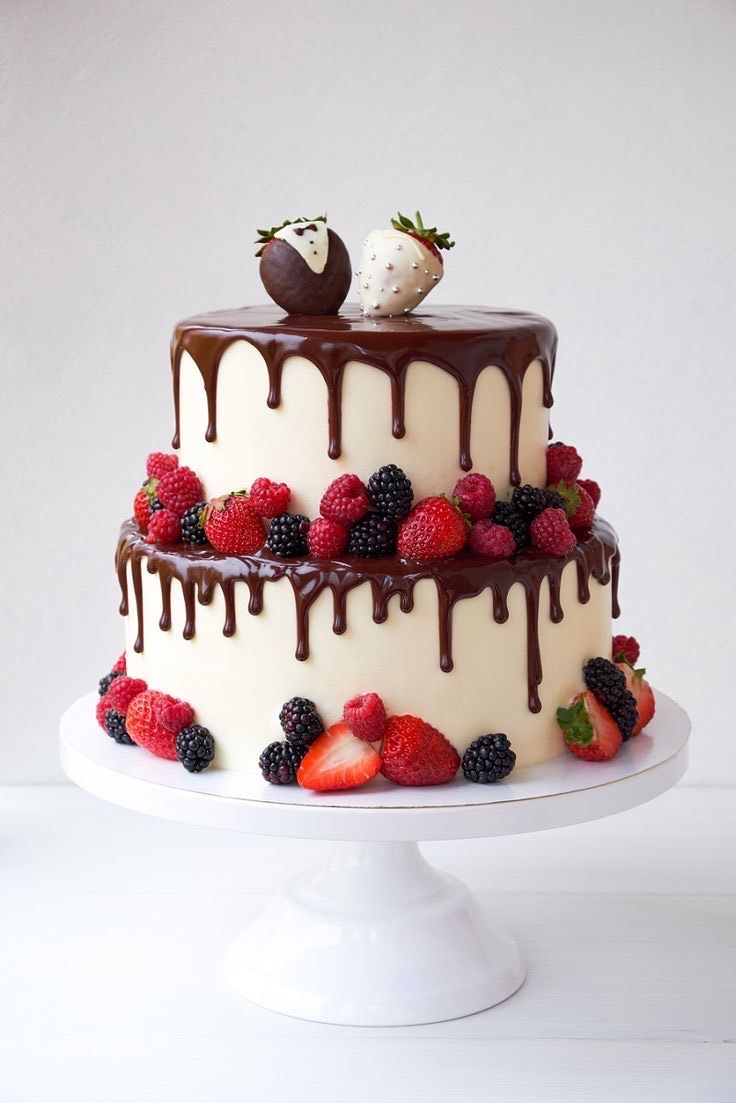 Wedding cakes can be metaphorical too. You can use certain elements to showcase the bond of being together. If you like minimalistic designs and have a love for berries, then here is the perfect wedding cake idea for you.
Order a strawberry cake. You can choose a multi-tier cake and use some chocolate to enhance its appearance. Surround the cake with edible strawberries, raspberries, and blackberries. On the top put two edible strawberries laden with chocolate as cake toppers. Keep them close to each other signifying the wedding couple's togetherness. And wait for the guests to go gaga over the simple yet pretty and unique wedding cake theme.
30. Minimalistic Pinecone topper: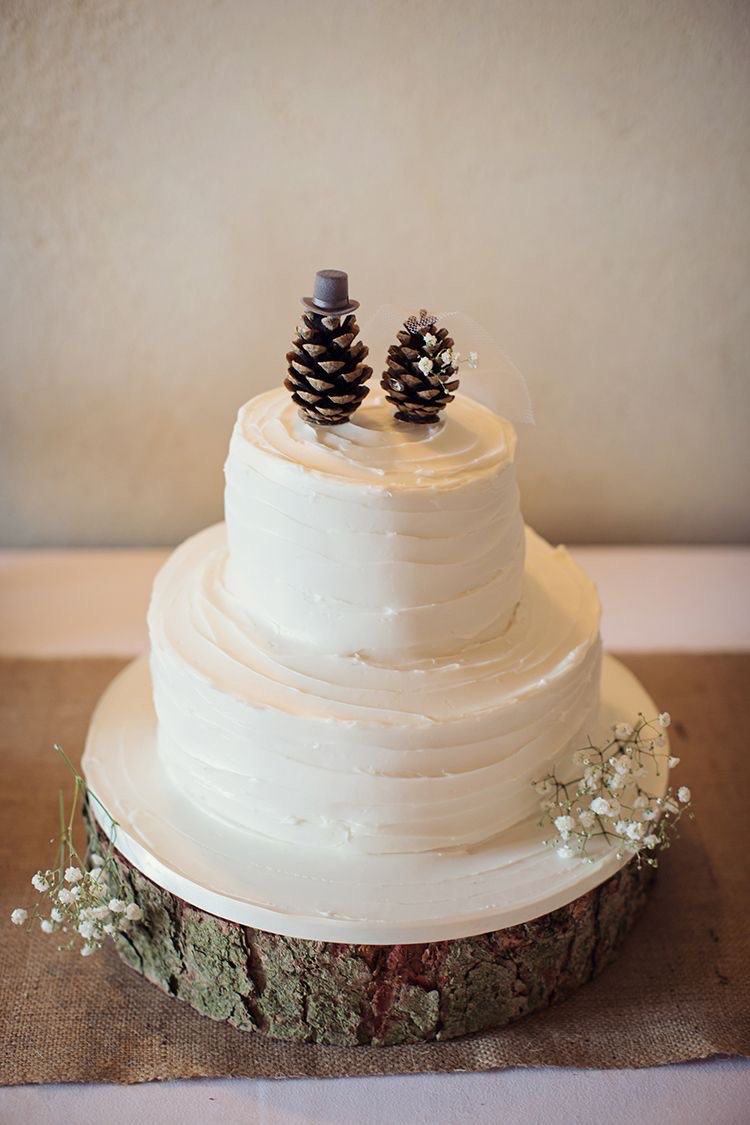 If you want a minimalistic look for your wedding cake and still have the desire to give it a unique identity, then go for a simple white cake and use an uncanny base and a cake topper to make it personalized.
You can make the base of the cake resemble a wood log and add a pop of foliage plant with rustic flowers all around the cake. And to give this beautiful cake the look of a wedding cake, you can add two pinecone toppers with one having a tiny hat and the other a wedding veil.
31. The 'Desi wedding' cake topper: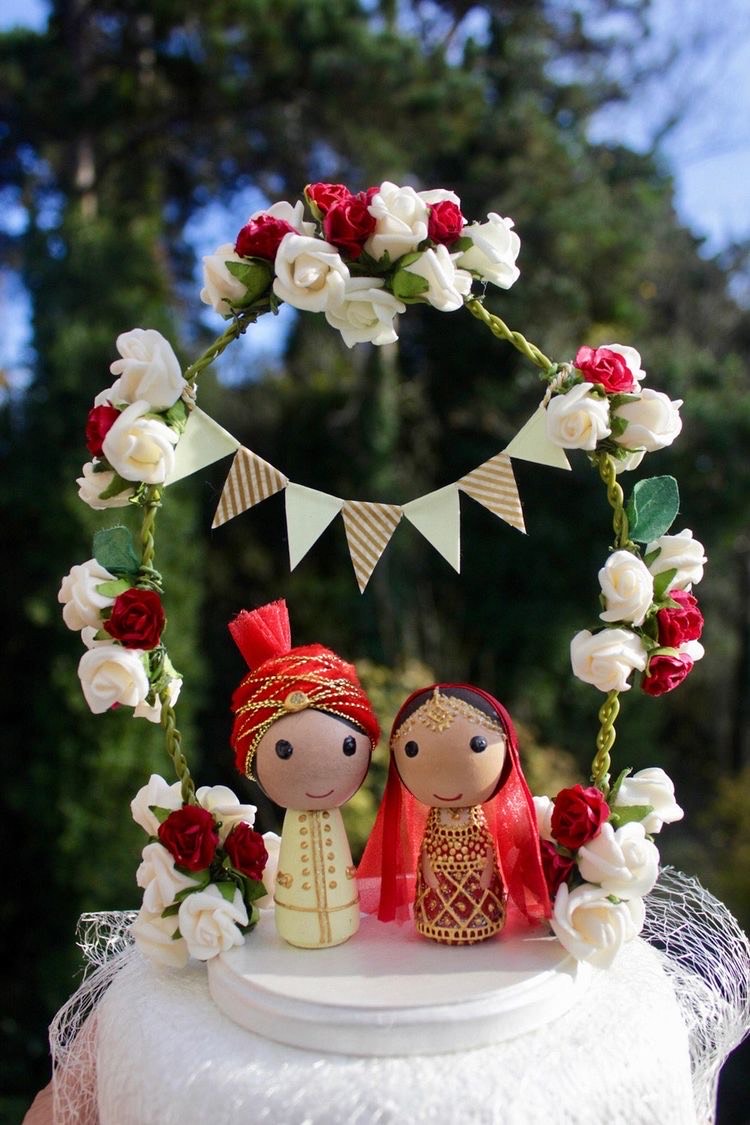 The traditional Desi weddings are incomplete without the wedding couple wearing the traditional attire of sherwani, turban, a ghoonghat, and ghagra choli. So let's give your wedding cake the same 'Desi' feel by using these same elements.
Use cake toppers of a wedding couple wearing the traditional marriage attire and have a backdrop of a floral arch with pennants. The flowers and pennants are edible while the miniature dolls of the wedding couple stay with you after the event as a cute and long-lasting memory of this special day.
32. Cake topper with text of 'Finally':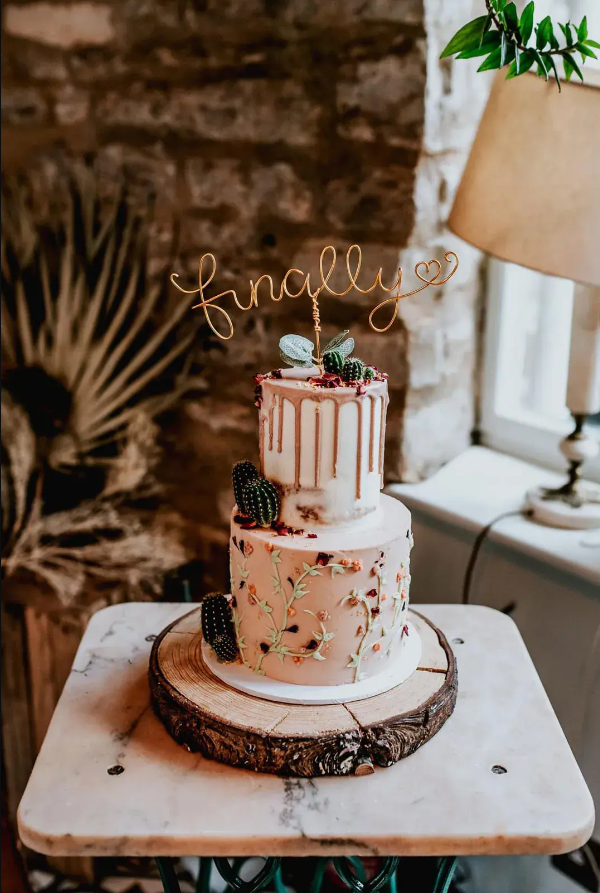 Sometimes you don't require tons of words or elements to convey emotion as one special word can do it better. For weddings that are happening after plenty of anticipation, the word 'Finally' expresses all the excitement and eagerness before the wedding couple took this big decision.
So why not use this word as your cake topper? You can get a simple cake topper with calligraphically written text that reads 'Finally' and implant it on your wedding cake. This simple arrangement will trigger plenty of emotions among the guests and will give you the satisfaction of organizing a memorable event.
33. "The Kissing Bride" and "Spider Man Groom" cake topper: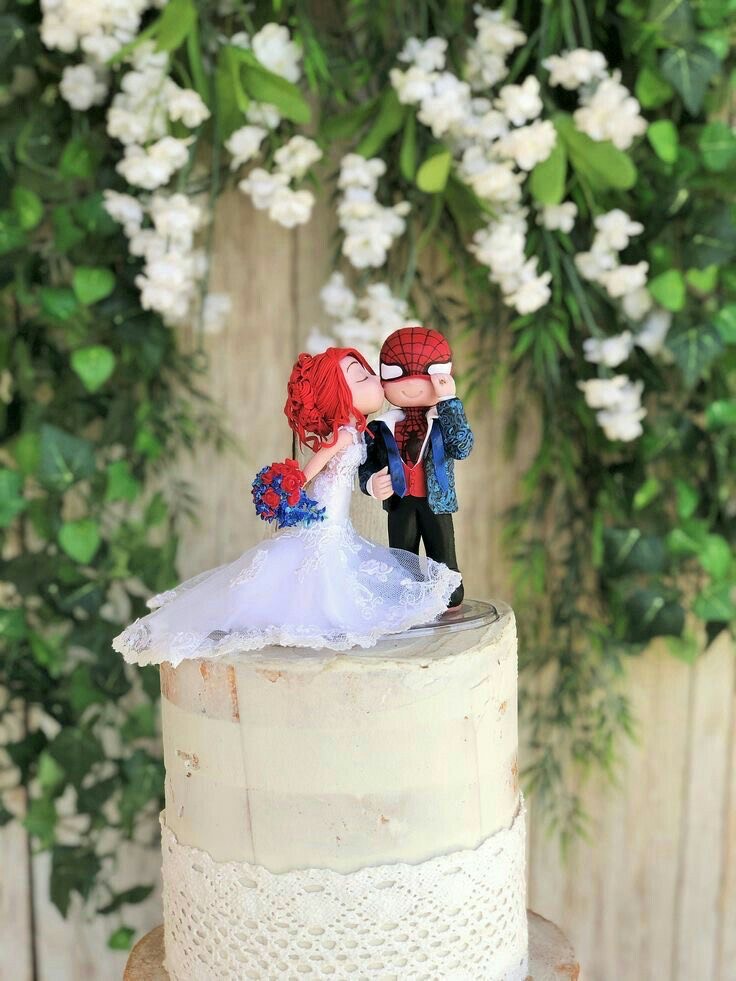 A good way to customize your wedding cake toppers is to play around with the cake topper dolls' accessories and features. Instead of choosing the standard colors, you can go with red color for hair and have the dolls wear customized wedding outfits instead of traditional wedding suits. The pose of the wedding couple kissing each other will make the cake topper more personalized and will help in signifying the intimate and special bond between the bride and the groom.
34. The Star Lit Wedding Couple Cake Topper: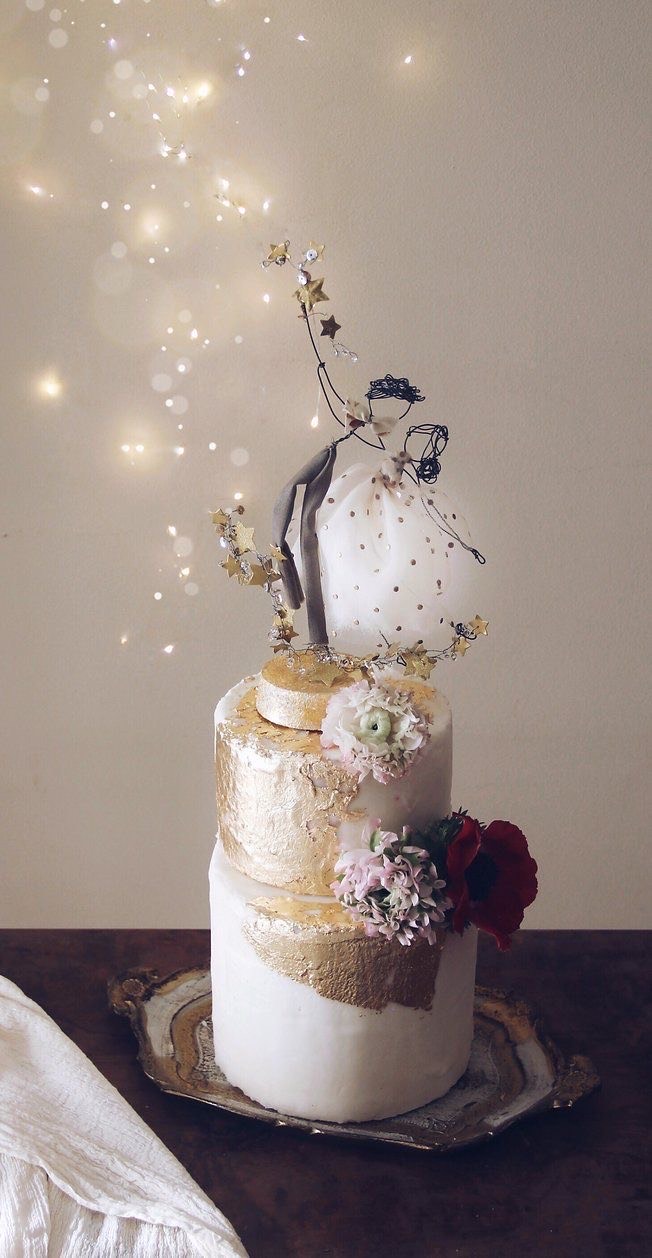 A wedding couple looking at each other surrounded by stars is a beautiful scene. And what if we tell you that you can bring to life this romantic scene and freeze it on top of your wedding cake? How? All it takes is some creativity and the use of special elements.
Figurines of the wedding couple are created using a wire. These are not actual objects but just a framework of wire that is used to create outlines of the bride and groom. These outlines are given a look of wedding couple by adorning them with fabric.
Using some more wires, the glittering and twinkling of stars is created. The figurines of the wedding couple along with the twinkling stars creates a magical scene that makes this cake the perfect wedding cake.
35. Personalized figurines as cake toppers: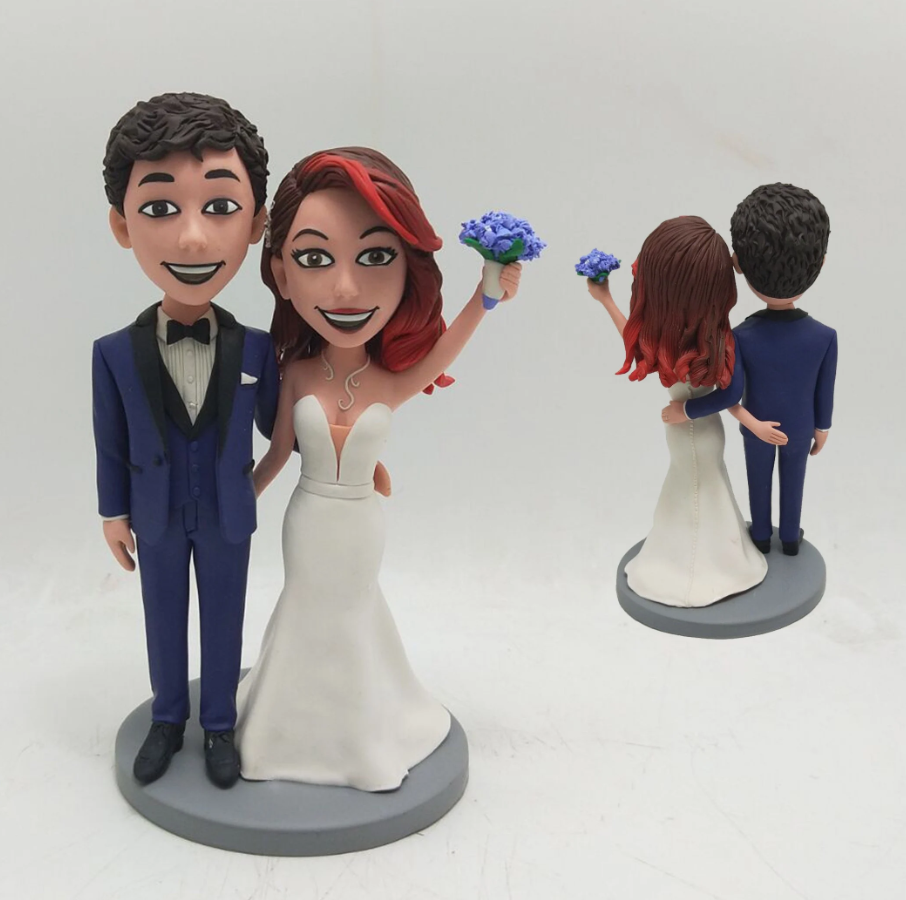 Make your special day more memorable by having tiny dolls with a striking resemblance to the wedding couple as the cake toppers. These cake toppers become the topic of all conversations during your wedding celebrations and your guests won't stop adoring them.
All you have to do is choose a professional artist who is known to create such personalized cake toppers. These artists will use your photograph to create a cake topper that looks exactly like you and carries all your facial features. You can add accessories, choose the poses, and customize the skin and hair color to make these cake toppers truly personalized.
These cake toppers are suitable for all kinds of cakes and stay with you forever as a sweet memory of this special day!
36. Giraffe wedding cake topper: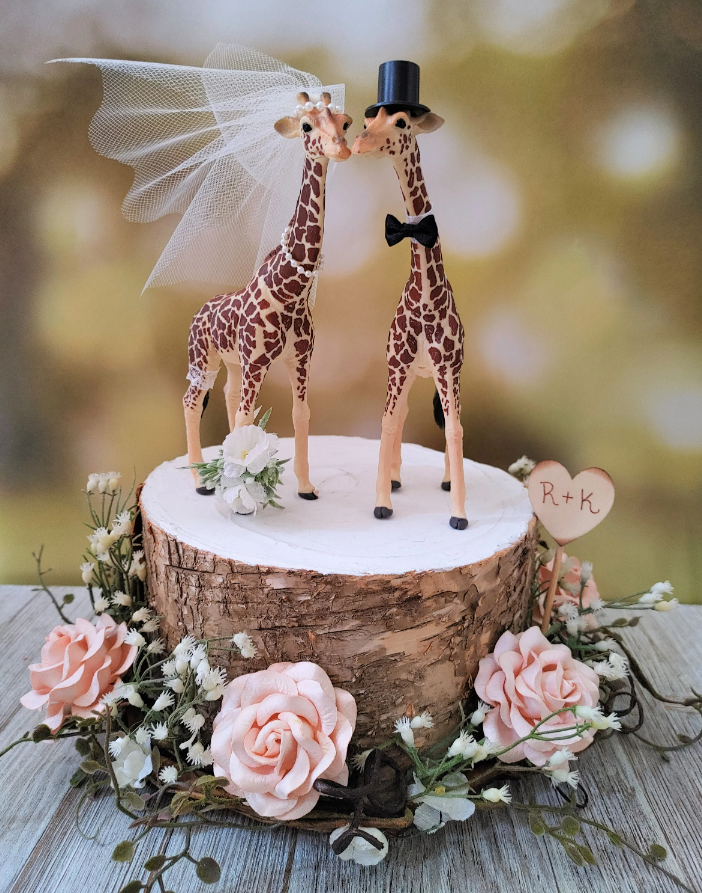 Giraffes are a lovely animal and if you are a zoo, safari, or giraffe lover, then this wedding cake topper idea is for you! Use these long-necked beauties as your cake topper and showcase your love for the animal kingdom. Make the couple wear accessories like a wedding veil, a hat, and a bow tie. Ask your baker to design the cake as a wood log and add some edible floral to complete the look of this unique and exciting wedding cake topper idea.
37. Black Cake with "GOLD" topper: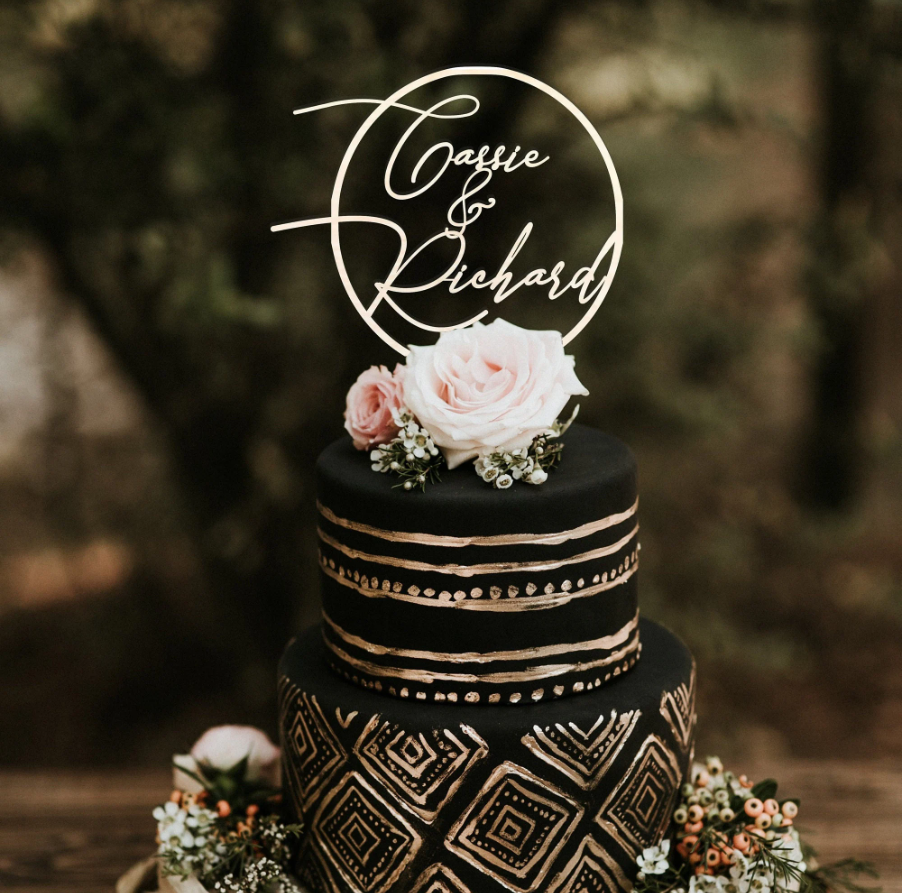 If you want to create an elegant, classy, and serene feel through your wedding cake then opt for a black cake with gold decorations and top it with a simple cake topper saying the wedding couple's name. Have a couple of edible flowers to bring freshness to this unique and classy wedding cake arrangement.
The cake topper with the name of the wedding couple can be made using glass or wood. You can choose either of them based on your preference.
38. Personalized Couple Cake Toppers: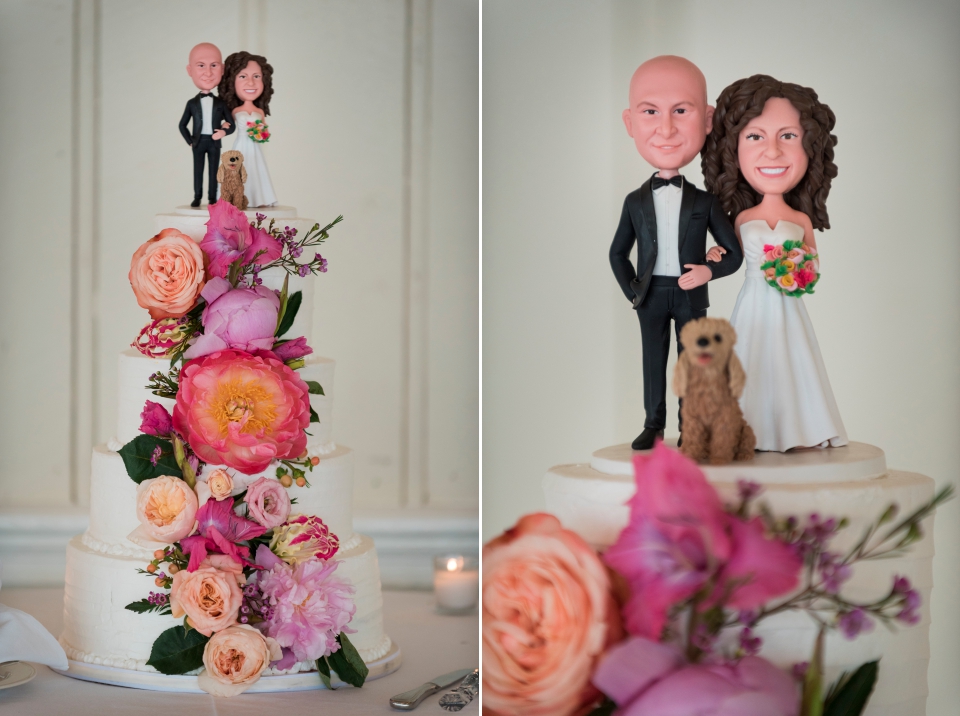 Customized cake toppers with intricate detailing and perfect finishing are a sight to behold. But you can leverage their visual appearance further by coupling them with edible floral decorations. The combination of perfectly carved miniature dolls of the wedding couple and edible flowers makes your cake impossible to forget from memory lane.
You can add your pet as well and make the miniature dolls more personalized.
39. A perfect wedding cake topper figurine: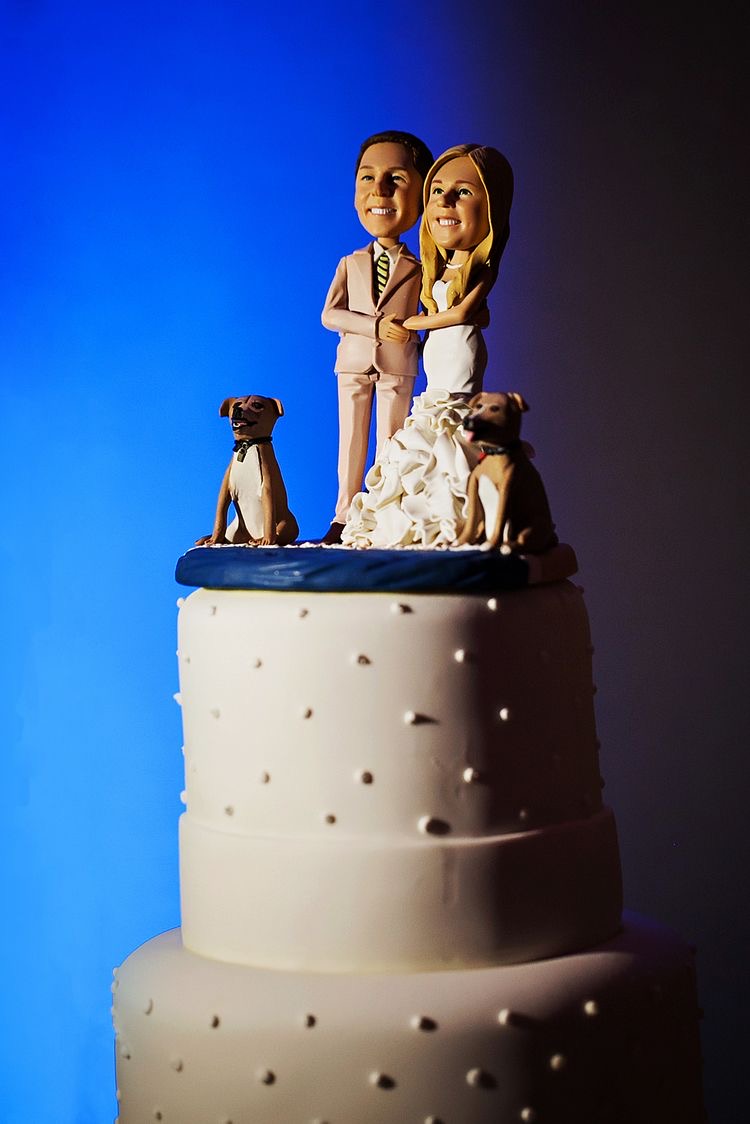 A perfect wedding cake topper figurine is one that includes everyone from the family. So along with the wedding couple add your pets too and have a wedding cake topper that showcases your entire family.
Your guests will be thrilled to see a tiny version of the wedding couple and their pets on the top of the wedding cake. Ensure that you make the figurines smile ear to ear to uplift the cuteness quotient of the cake topper.
The above-mentioned ideas will surely help you arrive at your ideal cake topper for your special occasion. To ensure you get the perfect cake topper for your weddings select a professional and reliable artist. Skim through their customer testimonials and past work to know their working style. So, go ahead and make your wedding a memorable one by adding a cake topper on your wedding cake.