It's Christmas time! And Christmas cannot be without cakes. So you must be already planning about your this year's Christmas cake design. Although finalizing the Christmas cake design isn't rocket science, it isn't a walk in the park either!
Choosing a Christmas cake theme or design can be a daunting task. To make things easier, you can opt for a cake topper. But what cake topper idea should you go ahead with? to help you in your quest for the ideal Christmas cake topper idea, we present an extensive list of creative and exciting Christmas cake topper ideas.
1. The classic 'Christmas tree cake topper: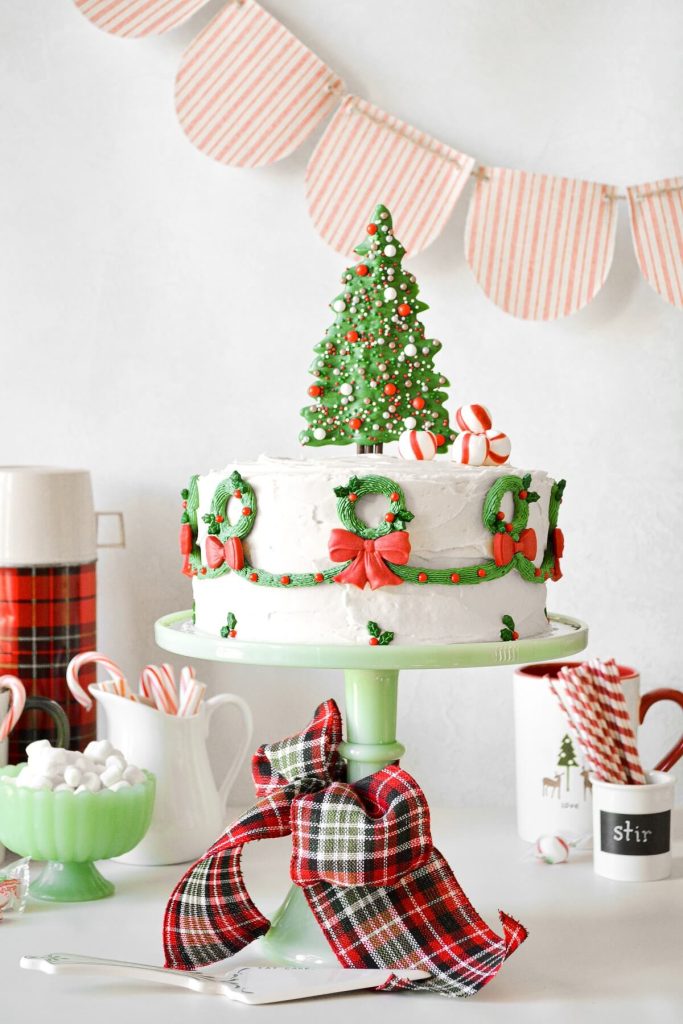 If you want a classic Christmas theme cake topper, then choose this simple and impactful Christmas tree cake topper for your Christmas cake.
This edible Christmas tree cake topper is made with green chocolate candy. It is adorned with a plethora of sprinkles of various sizes and colors. These sprinkles enhance the tree's beauty. To create a Christmas vibe, you can add some edible presents scattered around the tree.
You can decorate the cake with garlands and bows to make the cake topper more exciting.
2. The Santa Claus cake topper with the backdrop of pine trees: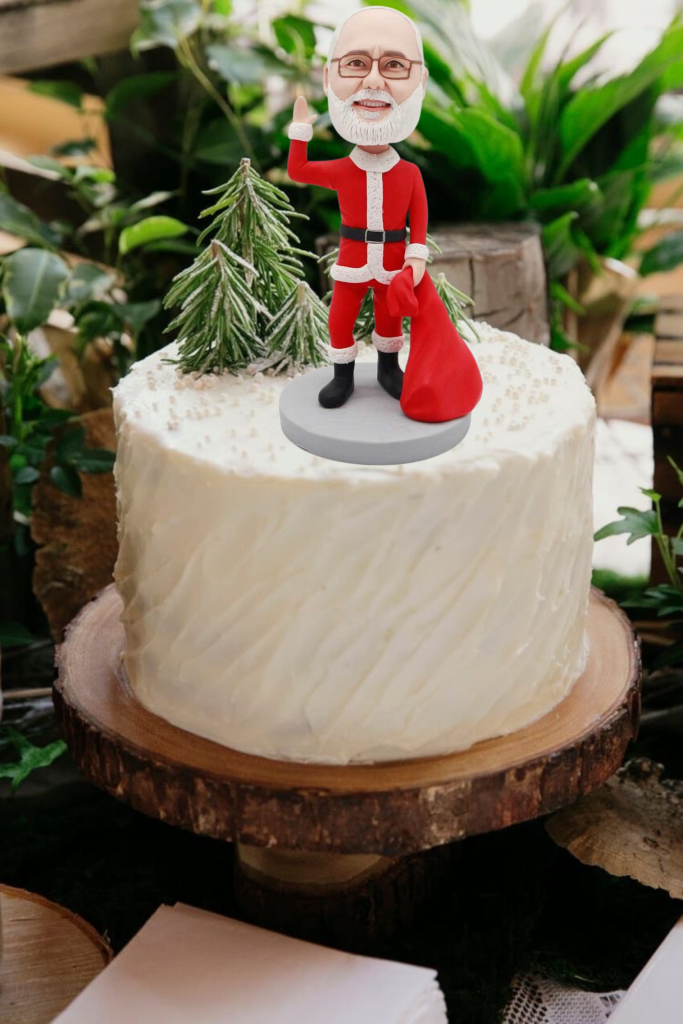 Give your cake a special Christmas touch by decorating it with traditional Christmas elements. Christmas is incomplete without Santa Claus. So make a tiny version of Santa Claus appear on your cake's top and have the backdrop of pine trees covered in snow.
This spectacle will make your cake one of the most memorable Christmas cakes.
Get a plain white cake from your baker. Ask a professional cake topper artist to create a tiny figurine of Santa Claus with all the shebang. Make Santa wear the signature red dress and carry the gift sack. You can customize this cake topper by making this tiny doll resemble a real person.
3. Metaphorical Christmas tree caketopper of gingerbread and icing: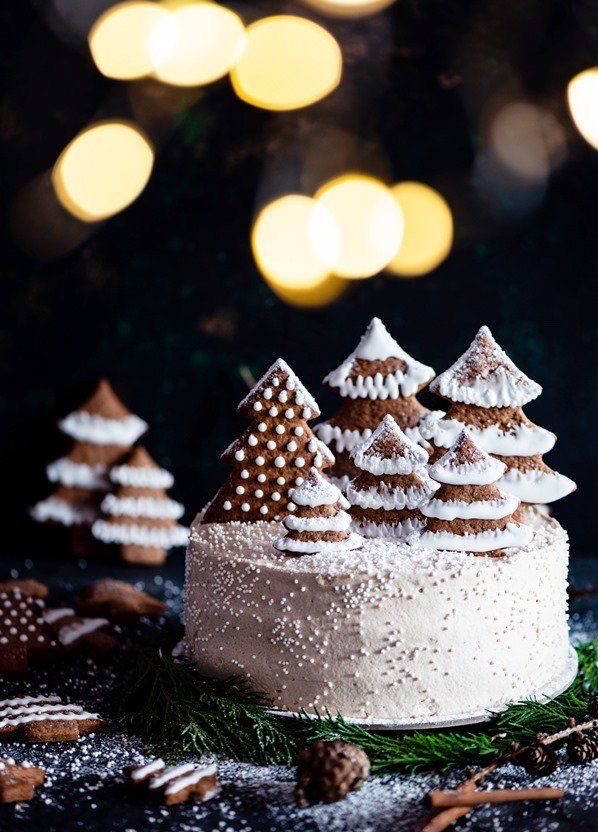 Give your cake the feel of cold and snow-laden Christmas eve by decorating it with a gingerbread caketopper that resembles a Christmas tree. This arrangement is ideal if you don't want glam or flamboyance and are looking for a subtle and elegant Christmas cake.
Ask your baker to create a single-layer white cake that resembles the snow. Inject multiple cake toppers on this cake. These gingerbread cake toppers resemble Christmas trees and you can use icing to make them appear covered in snow.
4. Santa special cake topper: 
A cute way to celebrate your Christmas is to make a tiny figurine of your special person in a Santa Claus avatar and install it on your cake as a cake topper. This customized Santa Claus standing on top of a customized Christmas cake will make the festival more special and will be pleasantly remembered for the next several years.
Made from polyester clay, this mini Santa Claus will stay with you forever as a sweet souvenir. A professional artist will work on intricate detailing to ensure this mini-doll has a striking resemblance to the real person.
You can decorate the cake topper by adding a few more elements to the cake. You can use a combination of red and white colors to decorate the cake to give it a Christmas theme and can add edible petals and berries.
5. The Winter wonderland cake plus cute deer cake topper decoration: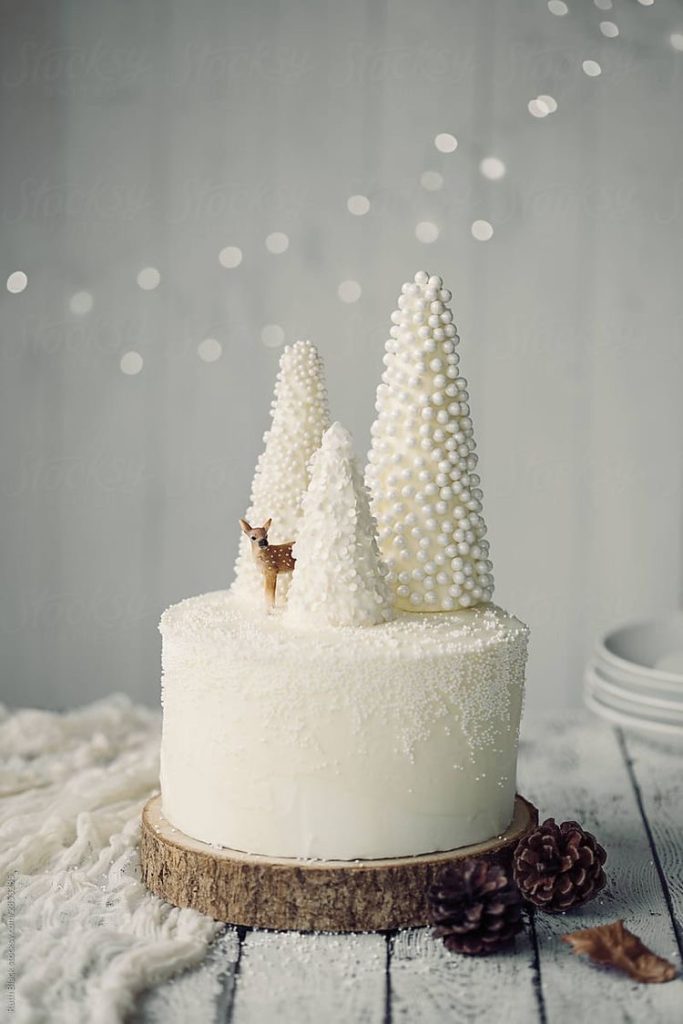 The winter is a magical experience. The white snow, cold weather, and the arrival of Christmas make winters special. So why not use winter as the theme for your Christmas cake?
Get a simple white vanilla cake with white cream. Decorate this cake with edible cake toppers in the shape of a Christmas tree. Since it's winter, cover these trees with white snow and add some edible pearls to the trees that resemble snow.
The white cake with a snow-laden pine trees cake topper will make your cake a perfect 'winter wonder.' To enhance the cake's cuteness, add a tiny deer cake topper amidst the pine trees.
6. The cute reindeer cake topper for Christmas cake: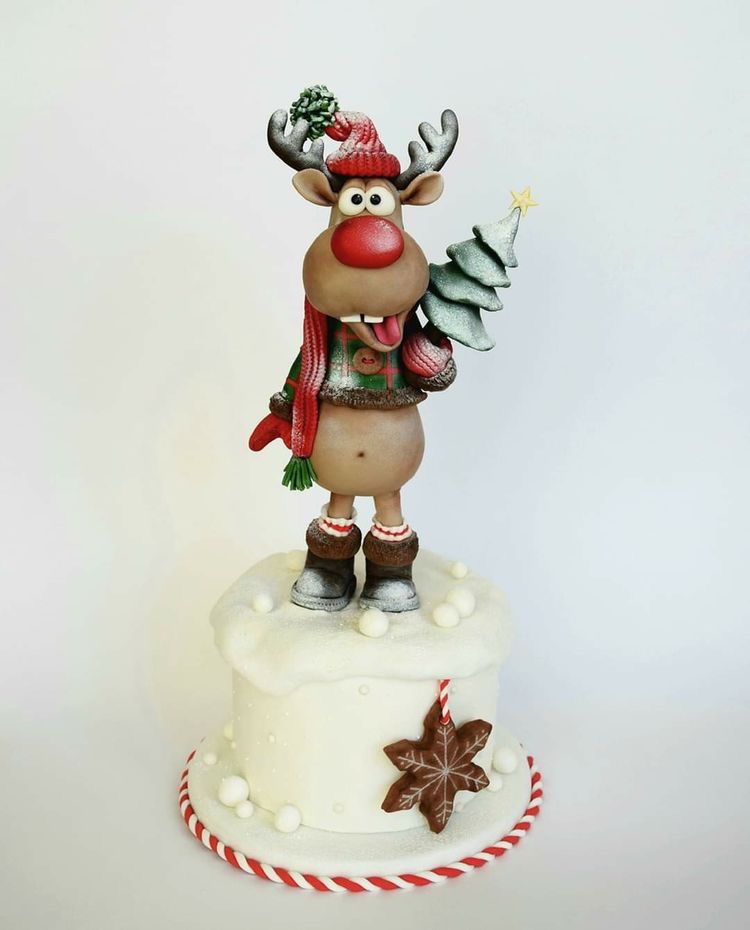 If you feel Santa Claus and the Christmas tree are too mainstream and want to try a creative and humorous theme for your Christmas cake then don't look beyond the reindeer cake topper theme.
The reindeer are as iconic as Santa Claus. So having a mini version of the reindeer is a creative way to celebrate the festival.
Opt for a simple white cake. Decorate the cake with white cream and make it appear like snow. Install the reindeer cake topper on this white cake to complete your Christmas-themed cake.
Instead of going for a conventional reindeer design, use creativity and an out-of-the-box design. Make this mini figurine wear winter clothes and have accessories like pine trees. Big eyes and overgrown teeth will give the animal a funny look and make it ideal for your occasion.
7. Cake topper of him and her wearing Christmas caps: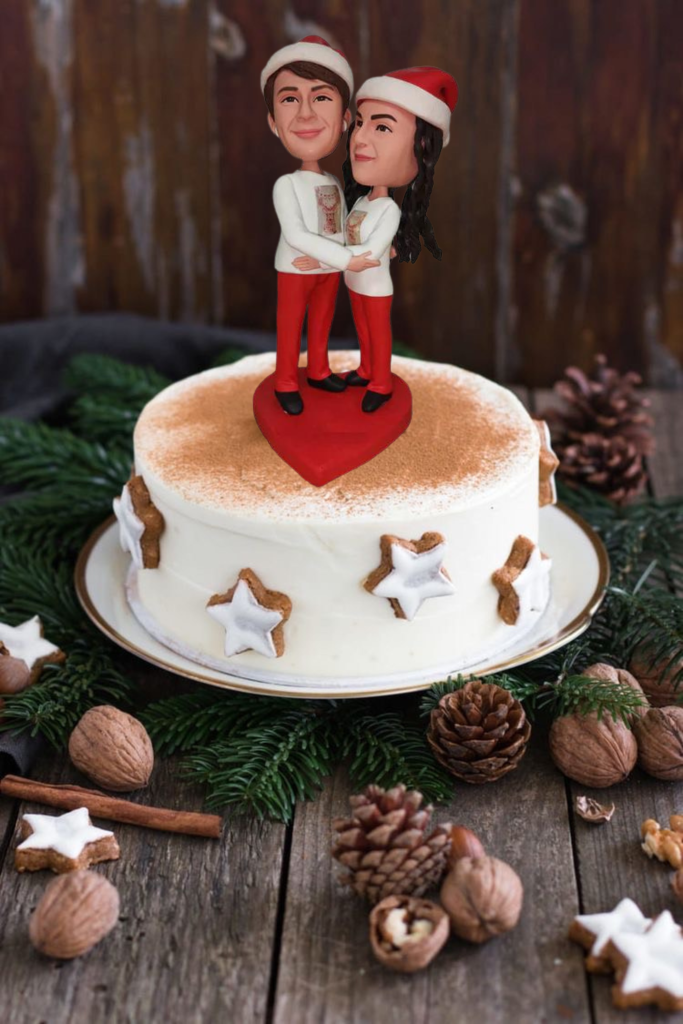 Fuse Christmas celebrations with romance by having a cake topper of 'Him and Her' standing together on the top of your cake. Customize these tiny figurines by adding Christmas-related accessories to give the cake a feel of Christmas.
Having mini figurines of the couple as cake toppers isn't an innovative idea anymore as these cake toppers have become very popular. So you can add some creativity by engulfing the couple with the Christmas theme.
You can use red and white colors for the clothes of these mini dolls and make them wear Christmas caps. To show their special bond you can make the cake toppers stand on a heart-shaped platform.
The Christmas-themed cake toppers of the couple will surely become the talking point of the event and will make your Christmas more memorable.
8. A sitting Santa Claus with a Christmas tree as a cute cake topper: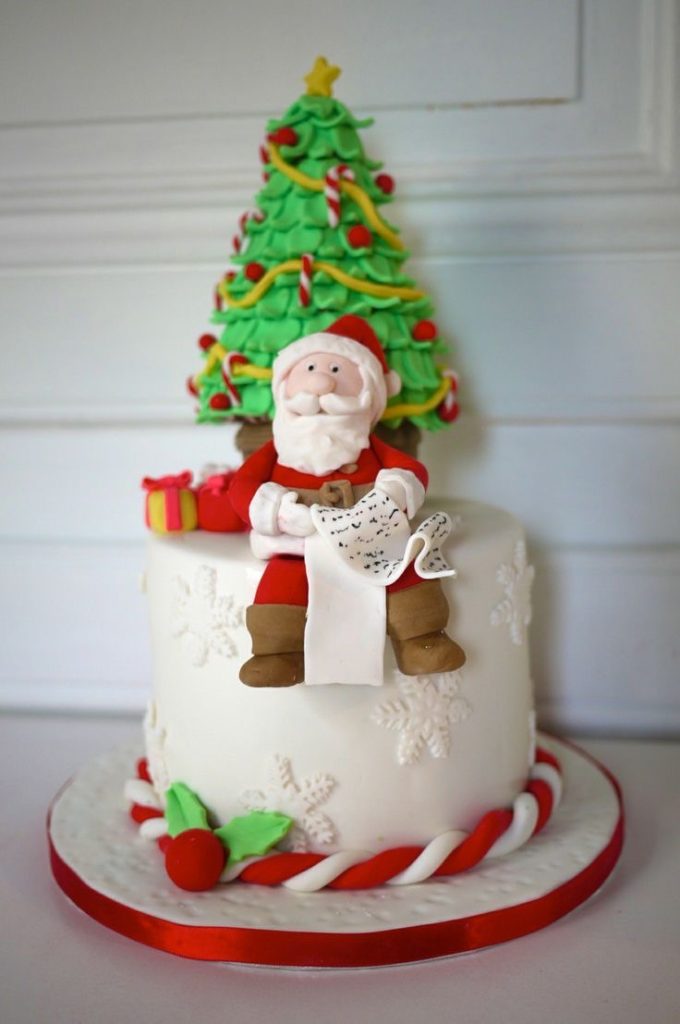 If you feel that having Santa Claus as a cake topper is not fun anymore then try this cute Santa Claus pose as the cake topper for your Christmas cake.
Santa Claus goes to every home on Christmas and delivers gifts to children. So that means he has a lot of gifts to deliver. Then how does he remember which gift to give to whom? Does he use a list? Does he get confused at times? Generally, children come up with these cute questions. You can use these imaginary thoughts to make your Christmas cake unique.
Have a cake topper of Santa Claus but give it an interesting pose. Make Santa Claus sit on the edge of the cake holding a long list in his hands. Create a look of confusion on his face to make him appear super cute.
You can have an edible Christmas tree cake topper in the backdrop along with some tiny edible gifts to enrich your Christmas cake.
9. The classic Christmas cake minimalistic decoration with rosemary trees as cake toppers: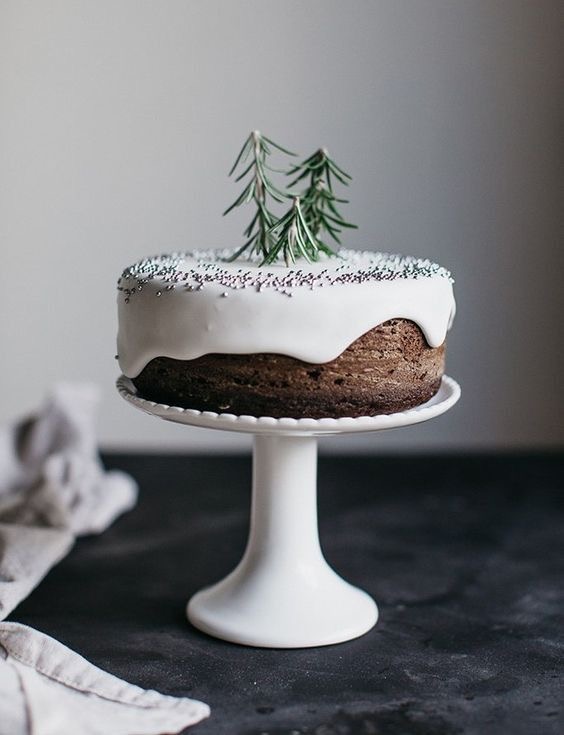 If you want to avoid glam and flamboyance and make your Christmas celebrations simple and minimalistic then go for a cake topper that looks simple and yet casts a profound charm. What cake topper idea are we talking about here? We are talking about using rosemary trees as cake toppers for your Christmas cake.
The beauty of having rosemary trees as cake toppers lie in the fact that this cake topper goes well with all types of simple cakes. You can have a fruit cake, carrot cake, or a spicy gingerbread cake. Use can use rosemary trees as cake toppers by adding a layer of white icing on your cake and sprinkling some edible pearls.
The arrangement of white icing oozing from the cake and a bunch of rosemary trees as cake toppers appears simple. However, the simplicity is enough to capture your guests' attention and make your cake the special one!
10. 'Autumn forest' themed Orange Rosemary cake with forest animals as cake toppers: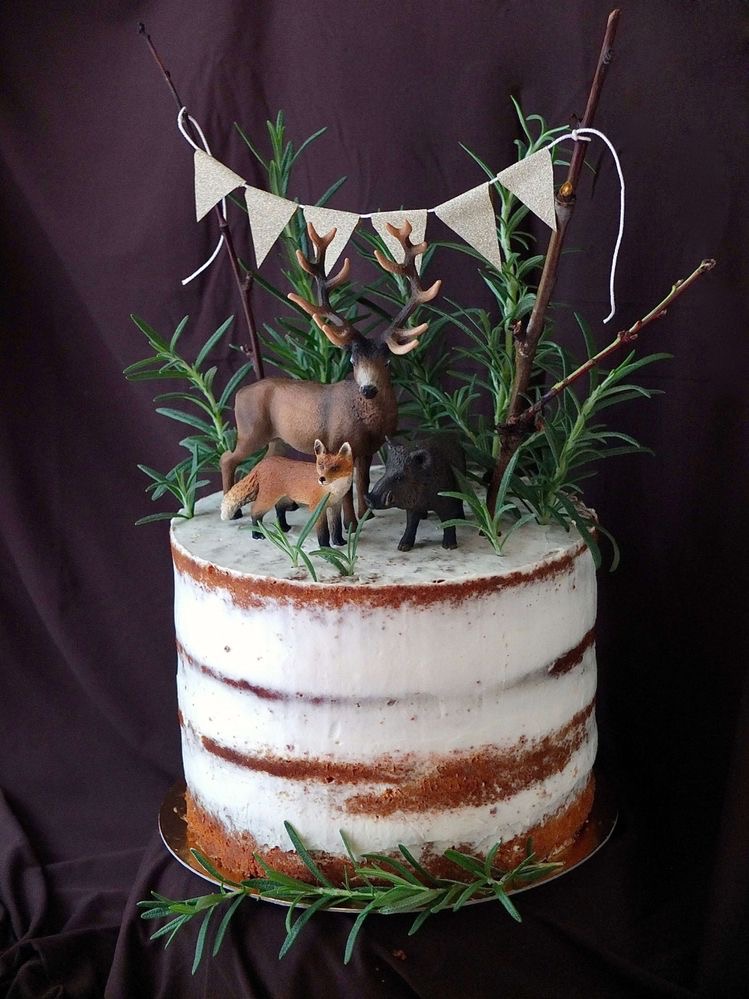 Most kids grow up listening to stories of forests and animals. Hence, if you want a creative cake for your Christmas celebration, it is a good idea to go for an 'autumn forest' theme. This theme uses a semi-naked orange cake and tiny figurines of forest animals made from rubber as cake toppers. Fresh rosemary trees give the cake the look of a forest while a tiny simple arch decoration with pennants adds a personalized touch.
Ask your baker to make an orange rosemary cake and ensure that it is left semi-naked from the outside so it appears like a birch trunk. Use tiny figurines of various forest animals like a fox, moose, and badger. Add plenty of rosemary trees to create the feel of a forest. Now complete this decoration with an arch with tiny pennants.
11. chocolate cake with gingerbread houses as caketopper: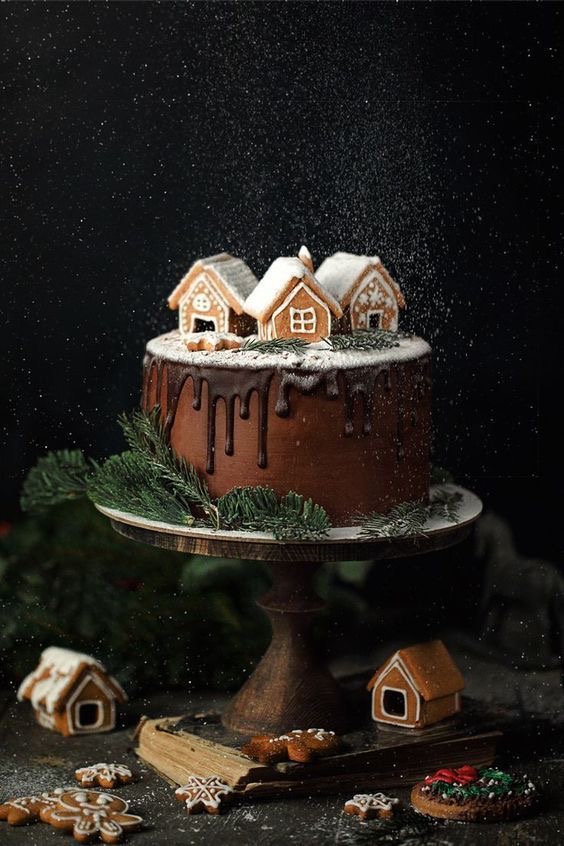 Create a tiny village enjoying winter on the top of your Christmas cake to give it a creative look and make your cake a visual masterpiece.
You can opt for a simple chocolate cake and add tiny houses made from gingerbread on the top. Sprinkle some confectioners' sugar as snow and add rosemary trees for decoration.
The tiny gingerbread houses as cake toppers will give your Christmas cake a homely look and it will surely stamp its presence in your guests' hearts.
12. The Winter landscape cake topper on gingerbread cake: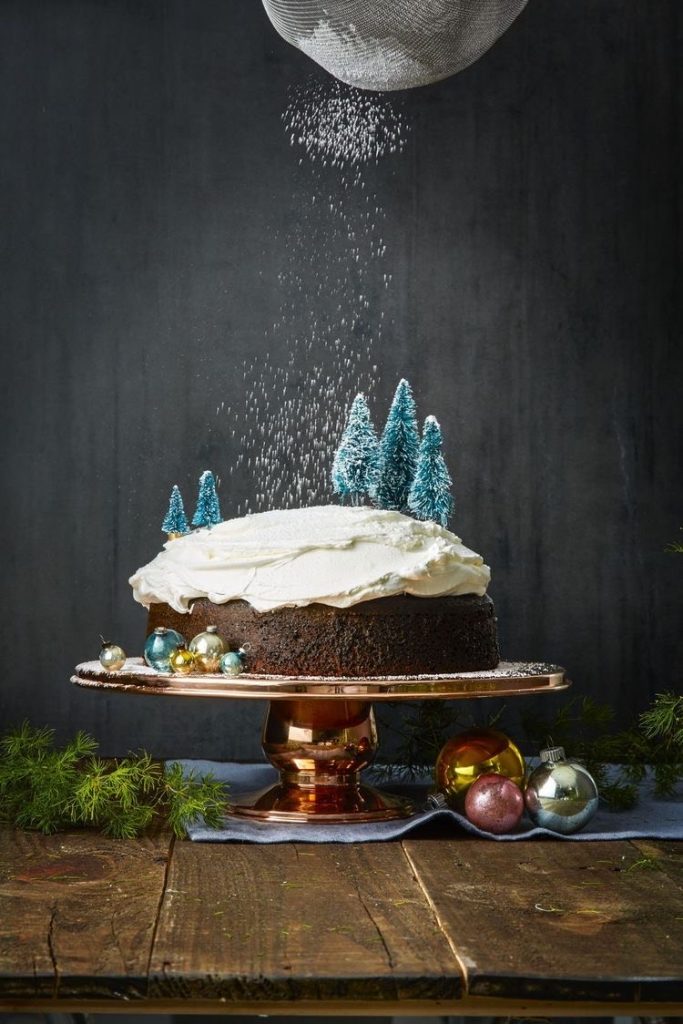 If you are looking for creative Christmas cake ideas then you should try the 'winter landscape cake topper' idea. Here a scenic view of winter is created on a gingerbread cake.
Smear mounds of whipped cream on the top of your single-tier gingerbread cake. This cream creates the feel of a snowy surface. Use confectioners' sugar to show the snow falling from the sky and use some pine trees as cake toppers to complete the 'winter landscape.'
The complete spectacle of snowfall with pine trees and a surface laden with snow on the top of your Christmas cake will make your festival memorable.
13. Cake topper of your beloved lady with Christmas gifts: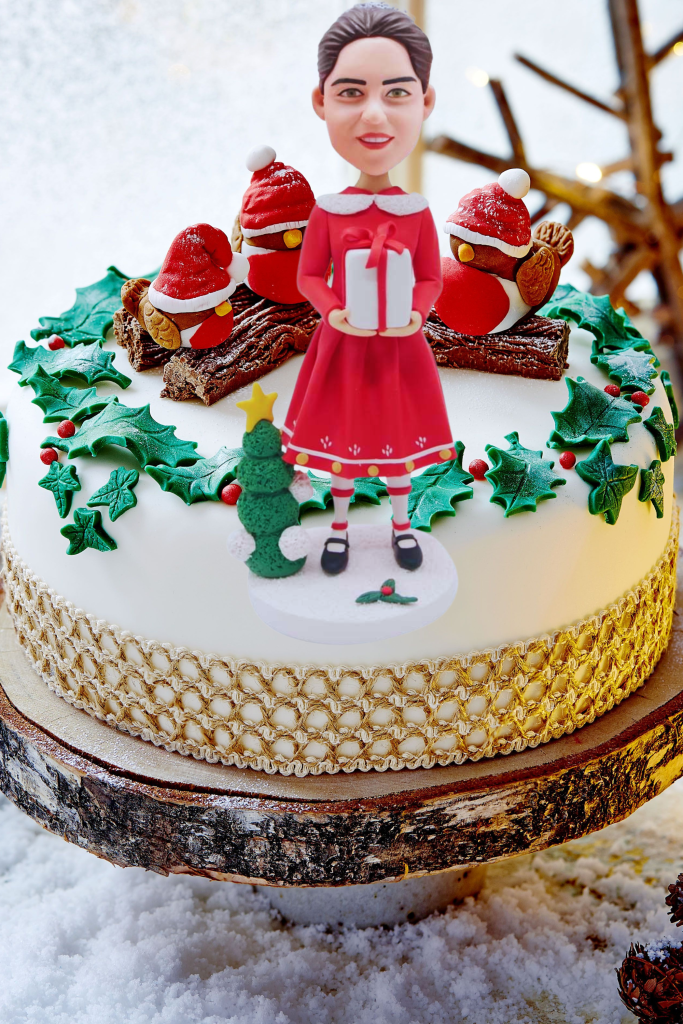 The best way to make your Christmas cake stand out from the rest is to personalize it by having a tiny doll of a special person on its top. This tiny doll serves as the cake topper and makes your cake the center of attention.
You can give this cake topper a Christmas look by customizing the attire and accessories. A red dress with a Christmas gift in hand will make this mini doll the ideal cake topper for a Christmas cake.
You can add toffees, chocolate bars, and edible flowers to the cake to decorate it further and make it more enticing for your guests.
14. Boxing custom Bobblehead doll as caketopper: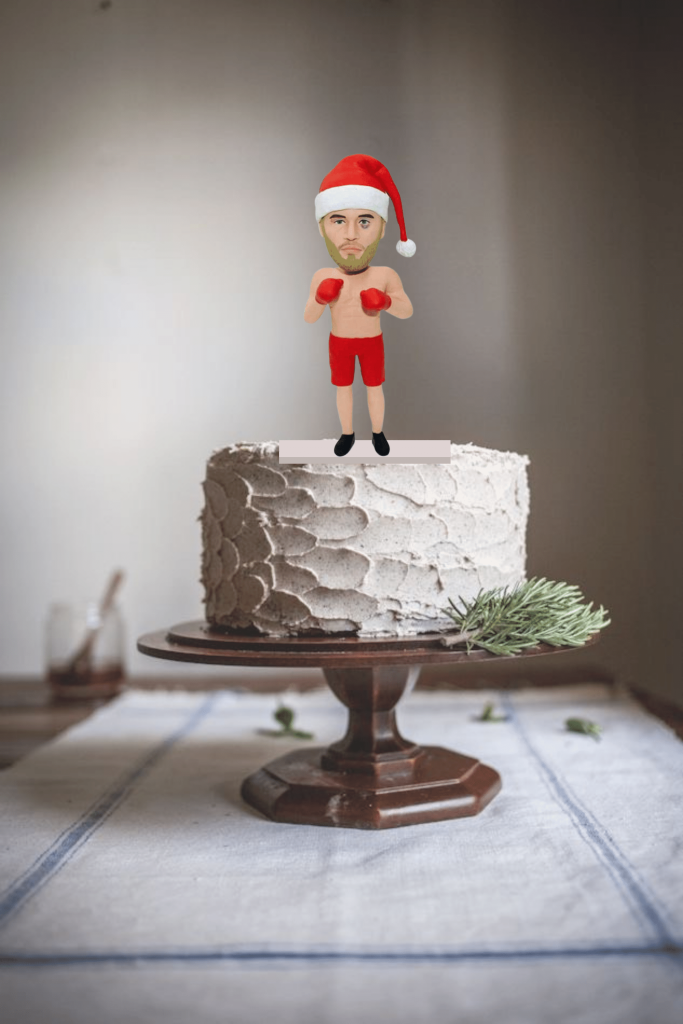 If you are looking for a completely out-of-the-box Christmas cake topper idea then go for a boxing bobblehead as the cake topper.
As the name suggests, this cake topper is a tiny doll of a boxer. You can customize this doll by making it resemble a real person.
The cake topper features a boxer in a boxing pose. You can color the boxing gloves red and add the Christmas cap to give it a Christmas feel.
A professional cake topper artist will sculpt the cake topper to perfection so that it has a striking resemblance to a real person. And as the cake topper is made from polyester clay, it will stay with you as a souvenir of the Christmas celebrations.
15. A golden moose as a cake topper on a red sweater cake: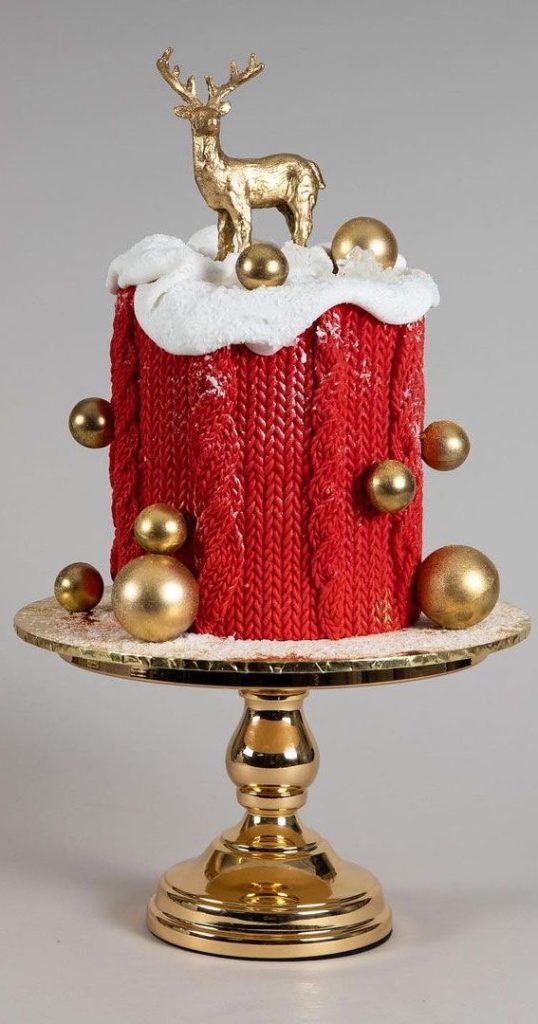 One of the most creative ways to celebrate your Christmas is to have a red sweater cake. This unique cake has an attractive texture and your guests are sure to fall in love with it.
To add to the glam of this red sweater cake, use an edible moose in golden color as the cake topper. The combination of red and gold color enriches the visual appeal of the cake.
You can add gold spheres and Christmas ornaments around the cake to further elevate its beauty.
16. Cute paper tree cut-outs of pine trees as cake toppers: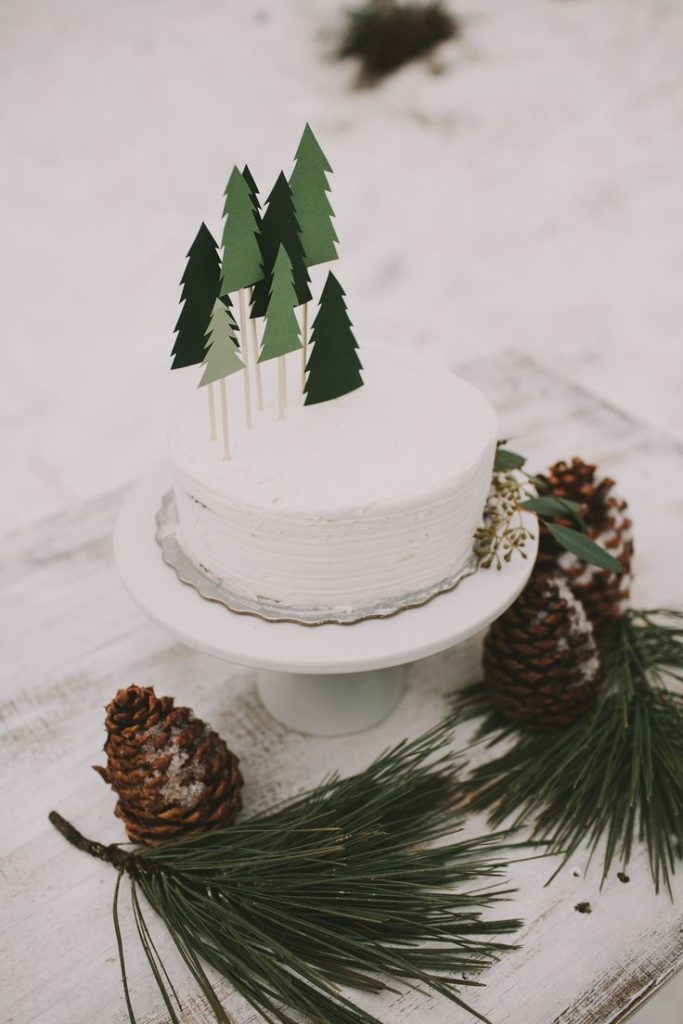 If subtle is your style and if you like to keep things simple then here is a cute Christmas cake topper idea for you. Go for a single-tier cake with white frosting and add paper tree cut-outs as cake toppers. Since it's a Christmas cake, give these cut-outs shape of pine trees.
These paper cake toppers won't cost much and are easy to find. You can even DIY to showcase your creative facet. The simple arrangement of a white Christmas cake with pine trees of paper as a cake topper is a great way to celebrate your Christmas in a simple and elegant manner.
From simple to flamboyant and from out-of-the-box to conventional, we covered a plethora of Christmas cake topper ideas in the above-mentioned list.
So finalize your pick and go ahead and make your Christmas cake a memorable one with an effective Christmas cake topper!