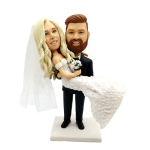 Bride and Groom Cake Topper
Sale!
Bride and Groom Cake Topper
-25%
The wedding day is all about the happy couple. They deserve everything to be perfect.
But, amongst all the high-stakes wedding planning – it's the small touches that really make the day warm and special. So why not go all the way and add that extra cherry on the top of this very special cake on this very special day.
Our bride and groom Cake Toppers capture the bride and groom's essence so magically, they sometimes steal the attention away from the couple itself! Don't say we didn't warn you!